In other news, Blue Cat's freeware plug-ins pack II is still entirely and forever-ly free, with no registration, dongle or even mandatory newsletter required. And they have just been updated!
In light of Blue Cat's preceding reputation, this would be enough said and we can end the article, because the name speaks entirely for itself. However, for the sake of thoroughness, and for those not yet familiar with Blue Cat, we will of course make sure to lay it all out and convince you to check them out.
Firstly, just so you know what you are using when trying their stuff, these are Blue Cat's main audio standards:
Available in most plug-in formats for Mac and Windows.
Full MIDI control and automation support, MIDI Learn.
No CPU load on idle: processing shuts down when fed with silence (optimal CPU usage).
Customizable user interface with transparency & zoom.
Smooth Bypass: noiseless plug-in activation / deactivation.
Undo/Redo.
Full featured integrated presets manager.
Copy/paste the state of the plug-in between instances.
Any sample rate supported.
This free plugin suite contains 6 effect plugins and a frequency-analyzer tool, bundled to provide a staple for most day-to-day mixing adventures. It can be potentially very useful for those starting out and trying to save a buck at first, but can prove purposeful for any producer or enthusiast. The plugins are exceptionally efficient in use, and the quality at which they do their thing shows many years of plugin know-how. Furthermore, they are still actively developed, because since December 15th, they have all been updated with several new features, and many improvements and fixes. The recommended (free!) update is fully compatible with the previous versions of the plugins.
So what is in them?
Blue Cat's Chorus:
A vintage chorus effect with gain, delay, depth, rate, spread, dry/wet and shape controls. It can create simple chorus effects but also more drastic pitch modulation and even crazy bubbling effects, and the Spread knob on the stereo version can make your head spin in just a few clicks.
Features:
Single voice vintage chorus effect.
Stereo spread control.
Sine or triangle LFO shapes.
In or out of phase mix control.
Blue Cat's Flanger:

A vintage flanger effect with gain, delay, depth, rate, spread, dry/wet, shape, feedback and feedforward controls. Whether looking for a smooth and soft flange or a harsh and brutal effect, this plugin can do it, and the stereo version allows you to sweep from a mono to a stereo effect.
Features:
Vintage flanger effect.
Stereo spread control.
Sine or triangle LFO shapes.
In or out of phase feedforward and feedback paths.
Blue Cat's Amp:
And Amp-simulator plugin with three models included, created with the acclaimed Blue Cat's Destructor amp simulation modeler. Offering a wide range of guitar tones from clean vintage to modern high gain metal tones. Its operation is very easy, and you can also load Impulse Responses. Beware the drive knob though, at high settings it bites.
Features:
Free guitar amp simulation plug-in.
3 amp models inspired by legendary amplifiers: "classic clean", "classic drive" and "modern drive".
Simulations based on the Destructor dynamic distortion and amp modeling engine.
Load you own cabinet or reverb impulse responses to add color to the amp simulation.
No latency.
Blue Cat's FreqAnalist: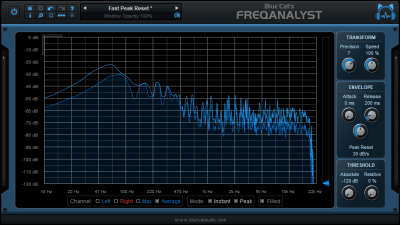 A spectrum analyzer plugin that offers smooth visuals in high resolution, and is able to display continuous variations even at high frequency resolution thanks to its unique interpolation algorithms. It includes management of most audio and frequency aspects, and a special thresholding system to focus and zoom on important parts and ranges. Additionally, you can customize the user interface with Blue Cat's skinning language.
Features:
Mono and stereo real time spectrum analyzer.
Total control over the audio to frequencies tranformation.
Smart interpolation algorithm for extreme display smoothness.
Zoomable display with multiple sizes.
Custom absolute and relative thresholds.
Blue Cat's Gain Suite: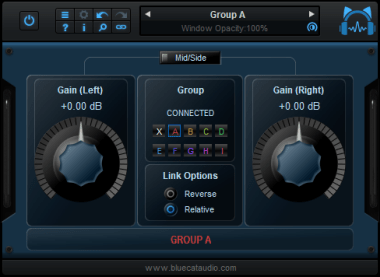 This is basically a Gain plugin suite included in the plugin bundle, containing a range of gain utilities to control the gain of one or several track simultaneously and in real-time. Included are advanced MIDI automation control, Mid/Side capabilities, ability to link several instances and control the gain of several tracks with one slider, and remote control functionality in combination with one of Blue Cat's analysis tools.
Features:
Single or dual channels gain plug-ins.
Stereo or mid-side processing.
Multiple instances linking capability: link and control several plugins from a single user interface.
Relative, absolute or reverse link.
Blue Cat's Phaser:

A plugin modeled after vintage analog phaser circuits, with gain, stages, depth, rate, spread, dry/wet, feedback and shape controls. You can choose up to 32 phasing stages, control the phase of the signal in the wet and feedback paths, and more. For subtle phasing and for pushing to its limits, nothing phases this bad boy.
Features:
Multi-stage analog-style phaser effect.
Up to 32 phasing stages.
Stereo spread control.
Sine or triangle LFO shapes.
In or out of phase feedforward and feedback paths.
Blue Cat's Triple EQ: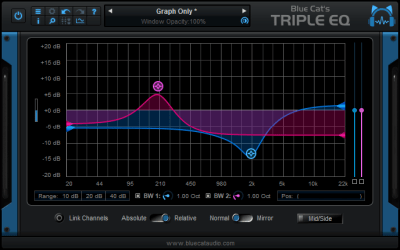 A 3-band semi-parametric equalizer which can be controlled like a single filter with customizable shape. A low and high-shelf filter, boost/cut peak filter, wide range and bandwidth of +/- 40db per band and from 0.01 to 5 octaves, this puppy is versatile. The filters are linked, controls are on top of the graph, it includes a dual channels version with linkable channels for panning solutions, …and even still, much more. Mistake not the fact that despite its three-band limitation, there aren't many limitations to speak of, and this EQ is truly 'up there'.
Features:
True WYSIWYG 3 bands semi-parametric equalizer / shapeable filter.
Dual Mode: independent left and right or mid and side channels control.
Multiple channels linking modes.
+-40 dB range for each band.
Automatic gain compensation.
No latency.
Real time display of the frequency response with precise measurement and zooming capabilities.
On-graph filter shape control.
Normally, we would say "grab this plugin NOW", but the truth is that you can grab it today or next year because it will remain free for as long as there is Blue Cat to give us these products. So try them now or next week, it doesn't matter because we know you will and we know you'll like them!
Blue Cat's Freeware Plug-ins Pack II is FREE forever!