From the Temple of TAL Software once came a nifty little synth called TAL-Elek7ro, which afterwards evolved into TAL-NoiseMaker. From its inception until this day it remains completely FREE, and now it is updated and improved with v5.0.3. Whether you use Windows, Mac or Linux, this plugin is there for the taking, free of charge, forever.
TAL-Noisemaker is a simple but powerful synthesizer, with a lot more up its little sleeves than one would think. It has a ring modulator, a self-resonating 6dB low-pass and notch filter, improved ADSR, and much more. A display shows the knobs and slider values and, in general, the GUI and UI feel smooth and tight. The learning curve is shallow and it's just a fun experience to tweak and twirl its many controls.
The full monty:
3 Oscillators
Osc 1, +- 24 semitones, fine tune, phase control (saw, pulse, noise).
Osc 2, +- 24 semitones, fine tune, phase control (saw, rectangle, triangle, sine).
Sub Osc (rectangle).
Osc 1 PM for pulse waveform.
Osc 2 FM controled by Osc 1.
Osc 1 & Osc 2 sync to sub osc (saw, pulse, rectangle, triangle(bipolar sync)).
Adjustable master tune and transpose.
Up to 6 voices.
Portamento in mono and poly mode (off, auto, on).
Ringmod modulates Osc 1 with Osc 2
Self resonating 4x oversampled filters (24 dB LP, 18 dB LP, 12 dB LP, 6 dB LP, 12 dB HP, 12 dB BP, Notch)
Filter ADSR (negative and positive)
Volume ADSR
Routable ADSR, modulates Filter, Osc 1, Osc 2, PW, FM (negative and positive)
2 LFO's with different running modes: free, sync to host, triggered by note.
Modulates filter, osc 1, osc 2, fm, pw, lfo rate, panorama and volume.
Sine, triangle, saw square, s&h, noise.
Positive and negative modulation.
Phase control.
Adjustable Velocity dependent control over volume filtercontour and cutoff.
Adjustable Pitch Wheel control over Cutoff and Pitch.
One pole HP filter.
Detune, detunes notes randomly.
Juno chorus with different modes.
A built in reverb.
A built in delay.
Adjustable filter drive.
Bitcrusher, affects osc 1 and osc 2. Its a pre the filter stage effect.
Midi learn for all knobs.
Panic button.
Easy to use, no hidden panels.
256 great presets
Quite impressive for a freebie, with a well-rounded feature-set and the usual quality delivered by TAL. In consequence, very few bad things can be said about it.
Of course, there are some limitations. For instance the modulation section is a bit limited (but still offers more than a few options), the chorus and bitcrusher effects lack some more controls to be useful in any situation, and more on a personal note it is less suited for elaborate bass sounds.
But as is any producer's bread and butter, decent workarounds are plentiful and sufficient to swiftly get around the bend with this plugin. It definitely feels right at home in the top-layers of any freebie-stack.
Get it!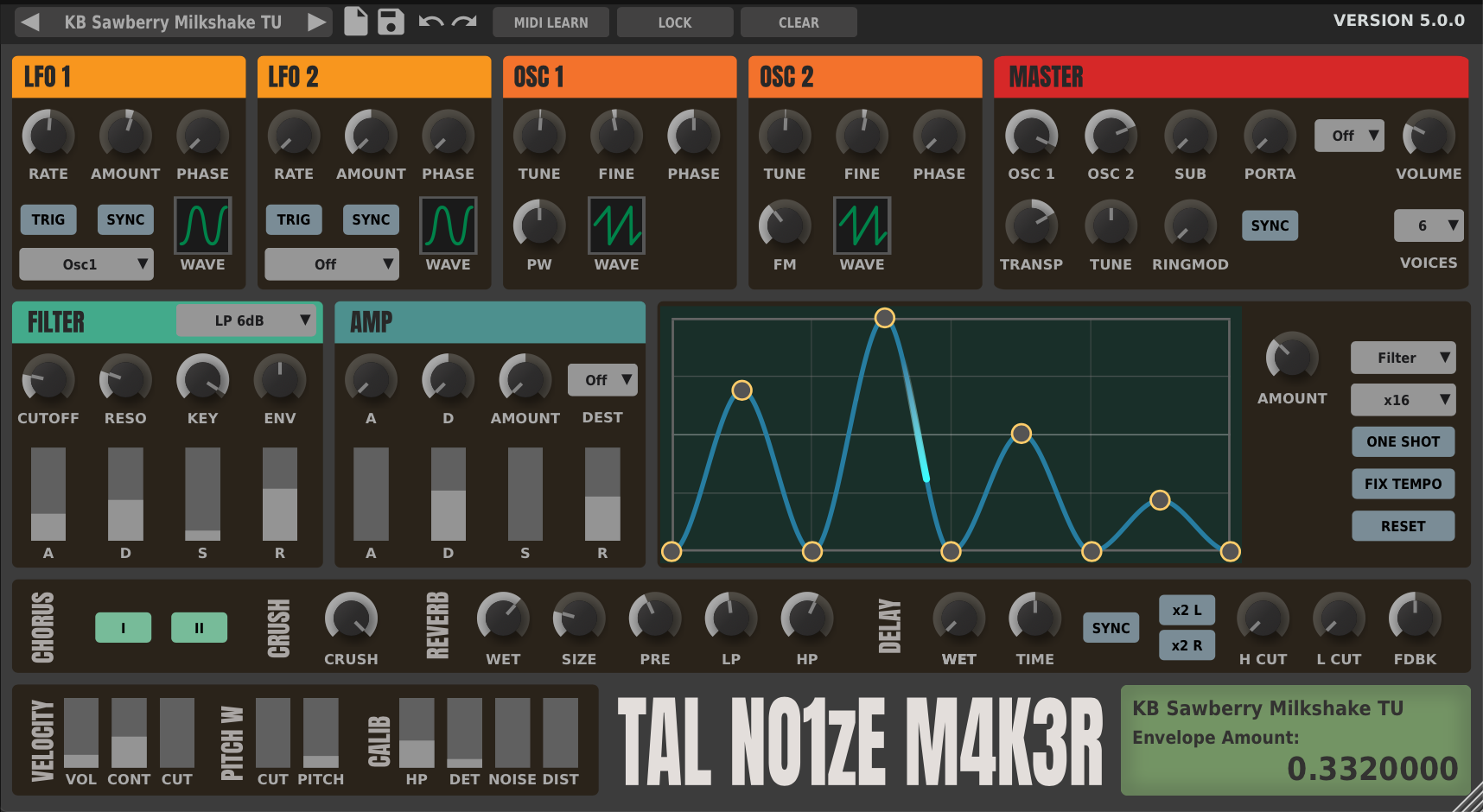 TAL-NoiseMaker is updated, improved and still forever FREE!