Every few weeks we will let you know the latest news about free plugins. Join the Plugin Deals and Freebies Facebook Group, or check out r/newplugindeals on Reddit if you want to find out about the latest deals and freebies as they happen.
---
Until October 27th
OSCILLATORS: Xenobyte has 3 oscillators, with standard waveforms; sine, saw, ramp, pulse, and triangle as well as white noise and pink noise. You can control the volume, octave, semi-tone, pitch, fine-tune,  phase mode, and frequency mode of each of the three oscillators, which have the same controls and waveforms.
SAMPLER: This synthesizer is a hybrid, in that it has an additional sound source, in the form of Xenobyte's sampler. You can use the Sampler alone or in combination with the oscillators. Open any audio sample and you can load it into the sampler and morph it with the oscillators, to achieve an even more powerful sound! The sampler features controls for pitch, volume, finetune plus octaves, and semitones.
Until October 31st
The cherished late '60s "Silver" LA-2A remains the first-choice vocal compressor in professional studios around the world. The LA-2A Tube Compressor plug-in is the definitive emulation of this iconic optical limiter, giving you the same smooth, radio-ready dynamics control on vocals, guitars, bass, synths, and more.
Until October 31st
The LA-2A Tube Compressor plug-in is the definitive emulation of this iconic optical limiter, giving you the same smooth, radio-ready dynamics control on vocals, guitars, bass, synths, and more. strive to bring music makers authentic, timeless sounds. To spread the word, we're offering everyone the legendary LA-2A Tube Compressor plug-in, absolutely free.
Until October 31st
pure:limit effortlessly tames peaks, balances dynamics and finds the right level for your mix – all at the touch of one button. Automatic parametrization for high-quality results, Intelligent processing and genre-based profiles, and Style selector and inflate parameter for sound-shaping.
Forever Free
Love-Fi 3 Lite is a Free Virtual instrument for creating LoFi, ChillWave, Chillhop, and Lo-Fi Ambient beats with ease. This versatile instrument is available in VST/VST3/AU formats for Windows and Mac 64-bit systems. Love-Fi 3 Lite features a revamped interface, offering a wide range of sounds categorized into Pads, Keys, Bass, Drums, Field Recordings, and sound effects. Each sound is meticulously crafted to infuse unique atmospheres into your tracks. Its user-friendly interface ensures a seamless experience, with intuitive controls to shape your sound. Easily adjust the ADSR envelope, low-pass/high-pass filter cutoff, LFO modulation, global volume, pan, and tuning.
Love-Fi 3 Lite allows you to enhance your sound even further with its built-in effects, including reverb, chorus, delay, and distortion. With Love-Fi 3 Lite, your music creation journey becomes more inspiring and simplified. Elevate your music production with Love-Fi 3 Lite and unlock the endless possibilities of your creative expression.
Forever Free
Cab-Lab 4 with DynaCab™ makes it quicker, easier, more intuitive, and fun to achieve great tone, allowing you to customize and mix IRs yourself. For decades, guitarists and audio pros have carefully selected, positioned, and mixed microphones on guitar speakers in the pursuit of great tone. Now you can do the same, and it is easier than ever before. With Cab-Lab 4, you get a 4-channel IR mixer, plus tools to EQ, align, and more, so you can select, position, and mix mics while listening in real time. Meanwhile, new DynaCab technology makes tone sculpting easier than ever, eliminating the need to sift through countless individual IRs.
Cab-Lab 4 supports our latest DynaCab Packs, as well as traditional single IRs — whether from Fractal Audio legacy cab packs or 3rd party producers. Cab-Lab gives you the tools you need to create your own signature tones—delivering the high-quality results you have come to expect from Fractal Audio Systems.
Expiry: None
Krimh Drums Free is a software instrument that delivers fresh and modern-sounding metal drums in any DAW.  It's sound-designed by renowned metal producer Jens Bogren (Arch Enemy, Opeth, Kreator, and many others) in close collaboration with outstanding drummer Kerim "Krimh" Lechner. Krimh has lent his drumming skills to acts such as Behemoth, Decapitated, and Dååth, and is currently a member of the symphonic death metal band Septicflesh.
Forever Free
Ardour's core user group: people who want to record, edit, mix, and master audio and MIDI projects. When you need complete control over your tools, when the limitations of other designs get in the way, or when you plan to spend hours or days working on a session, Ardour is there to make things work the way you want them to.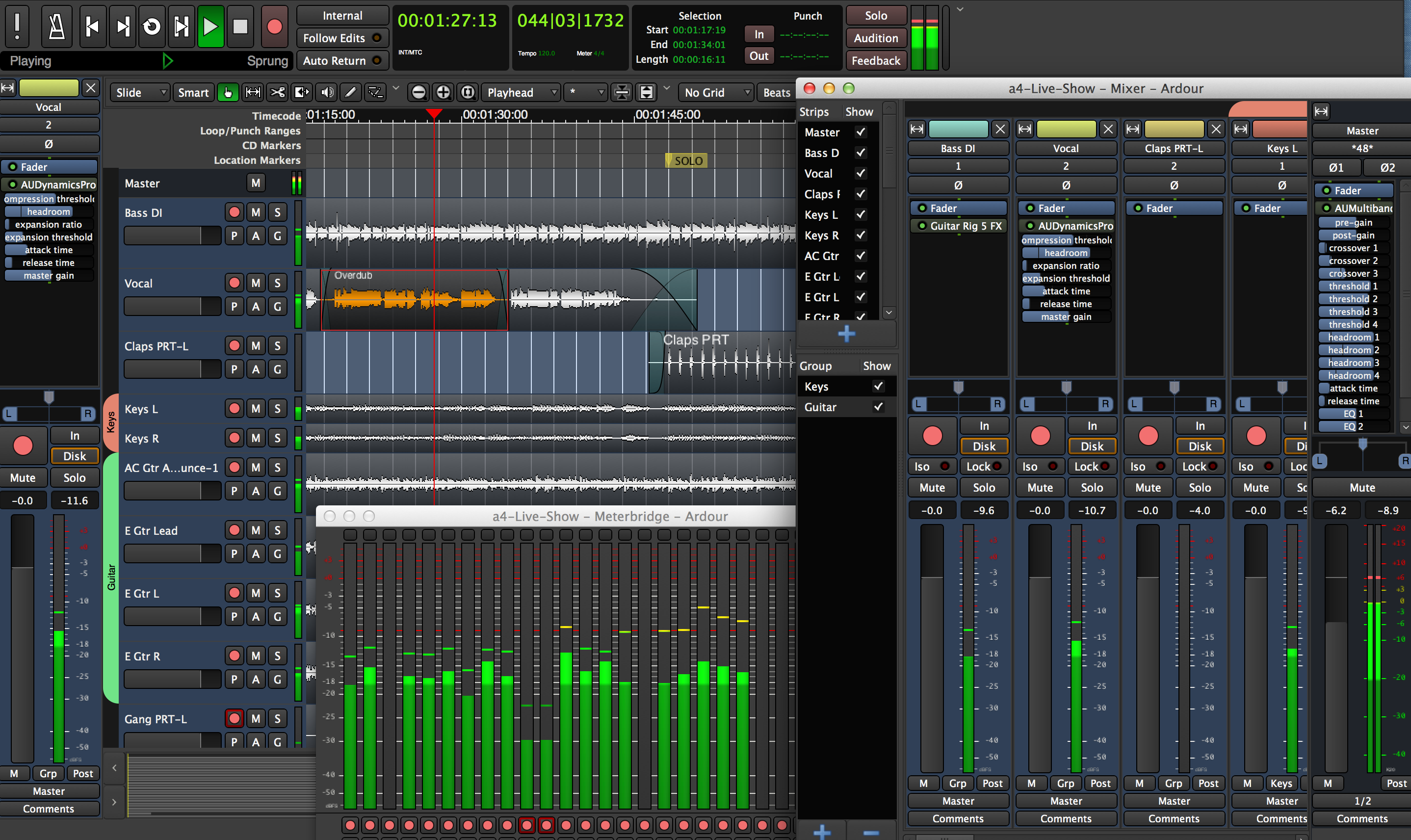 ---
Thanks for reading. Hopefully you found something cool!
Check out previous FREE Plugins Reports for even more freebies! And remember… there is always a range of free effects, free instruments, and free studio tools available from our partner Plugin Boutique, so check those out too.