Welcome to the latest FREE Plugins Report!
Every few weeks we will let you know the latest news about free plugins. Follow @newplugindeals on Twitter, join the Plugin Deals and Freebies Facebook Group, or check out r/newplugindeals on Reddit if you want to find out about the latest deals and freebies as they happen.
---
Until February 17th
With Mainstage Hybrid Trap, we've put together all of the signature sounds of the genre in one complete production package ready for you to cook up the hardest, heaviest, rave-ready bangers. Featuring 60 expertly-crafted presets covering 808s, basses, chords, FX, leads, pads, plucks and synths all with macro controls mapped to only the most useful parameters, enabling efficient on-the-fly tweaking for custom sound design.
---
Until February 26th
2B Reverbed is a mix reverb plug-in with which you can give your lead synths, drums and percussion, but also your vocals, just what it takes to make it fit into your overall mix. 2B Reverbed itself has an open and broad character. It also gives you the space to apply distortion to the output signal with which you can give your drums or percussion that little bit extra character.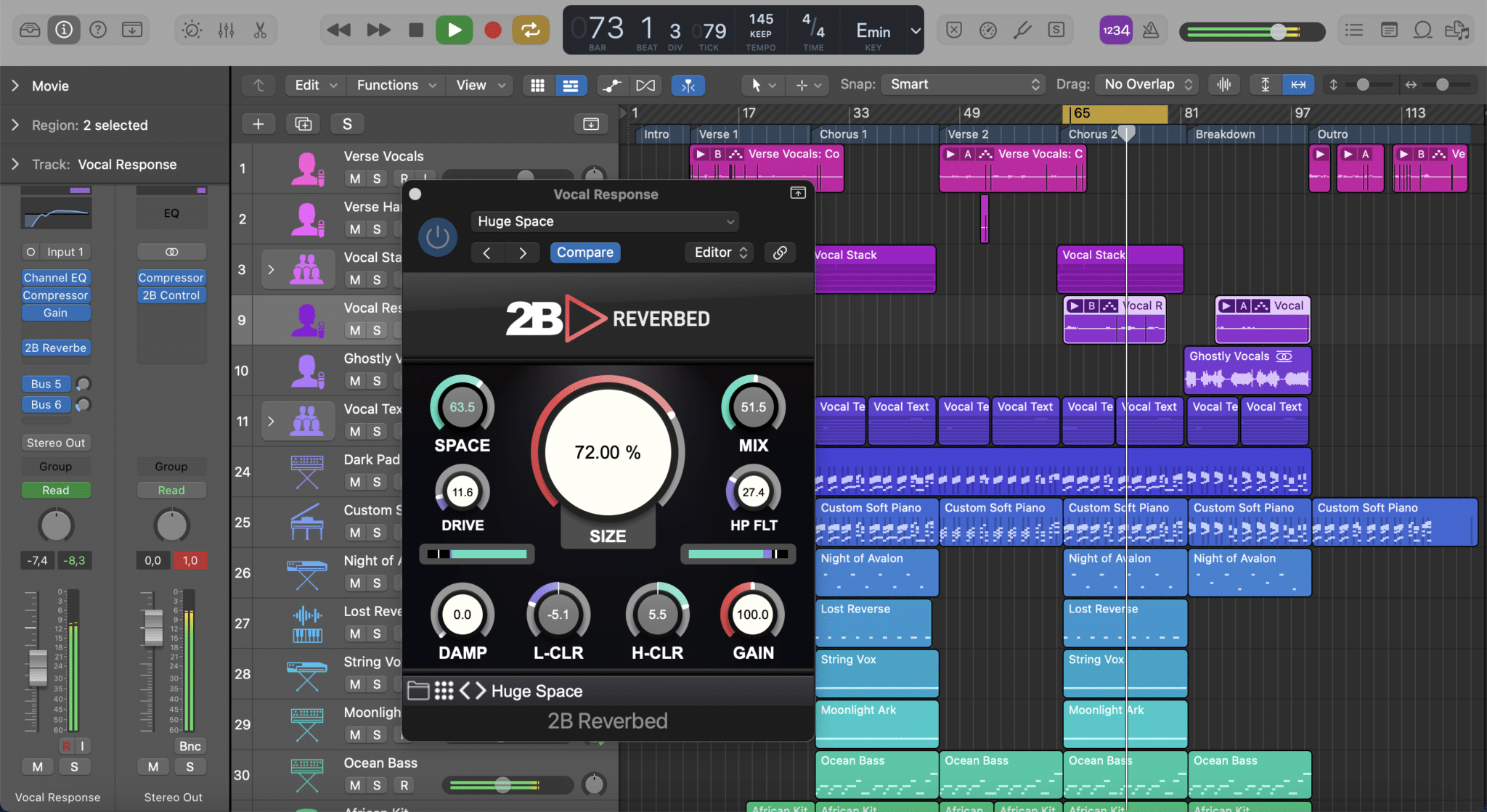 ---
Until February 28th
Yum Audio is having an early Valentine's Day Sale and is offering some deals. Two of their most popular plug-ins, Spread Light and LoFi Flux Light, usually priced at $49 each, are available for free until the end of the month. Additionally all other plug-ins and bundles are 30% off.
---
Until February 28th
Just like a DJ working vinyl, TimeShaper 3 lets you freely manipulate the flow of time, slowing down or accelerating your music. Simply draw the exact LFO shapes you need – the unique curve-editing tools make it fast and easy. Warp pitch and time to create everything from essential everyday FX to extreme multiband transformations.
---
Until March 5th
by SONICS EMPIRE comes in its Final Installment packed with outstanding 47 chords, 38 Strums, 42 Expressions. The Chord Selection final Serie includes a wide variety of music genres such as hip hop, synth-wave, pop, Rnb, Latin, Psychedelic, Gospel, and many more. This pack matches the highest standards and needs of Online and Industry producers worldwide and to empower your experience with the different music genres.
---
Until March 7th
Cool Loops Volume 3 contains 30 royalty free Melodic Loops with Midi files included. Everything is BPM and Key labeled.
---
Until March 31st – Discuss this Freebie
Antelope Audio's unique component-level approach to analog effect modelling delivers world-renowned sound quality. The Synergy Core platform gives you a faithful recreation of the original hardware's unique sound and enables near-zero latency when monitoring and recording. 93 vintage EQs, compressors, landmark guitar amps & cabs, tube mic pres, tape saturation, and more await.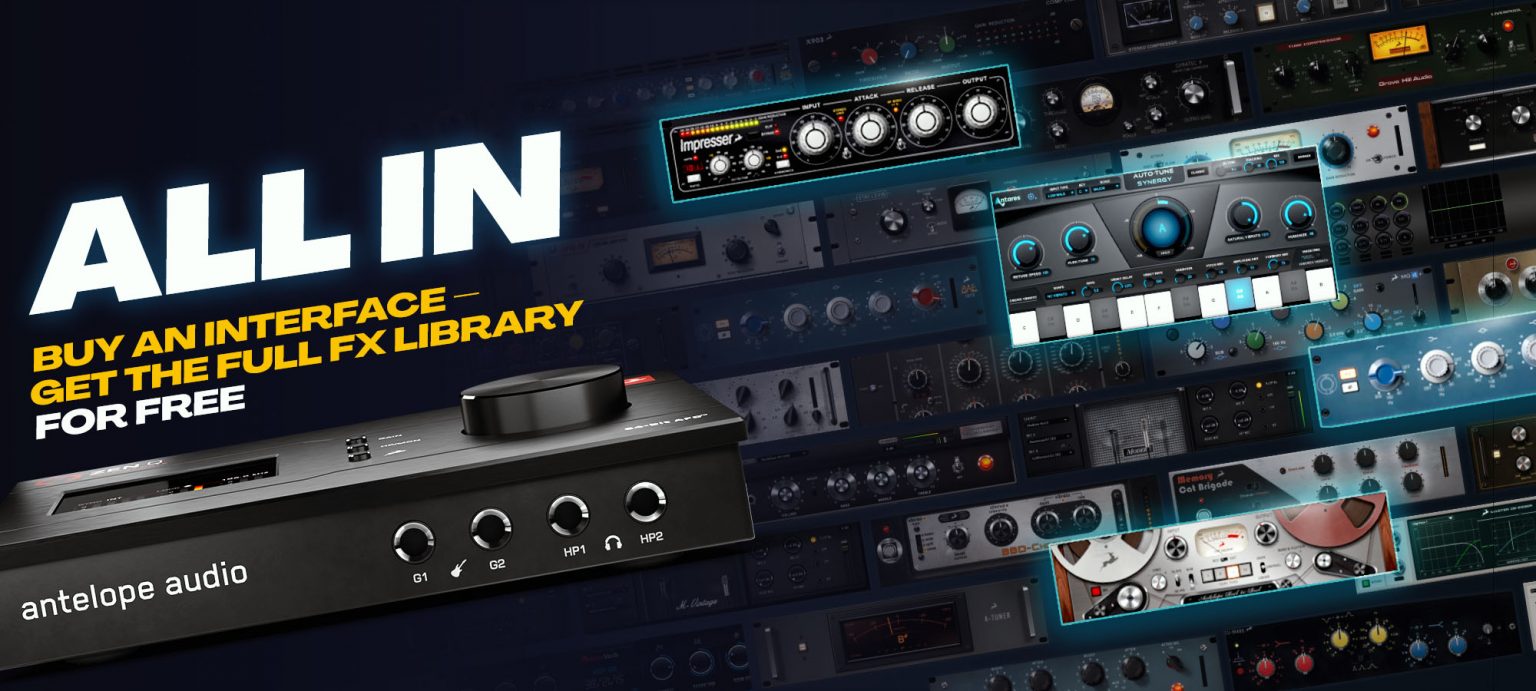 ---
Forever Free – Discuss this Freebie
This sound library is dedicated to a memory of Gunter Hager aka H.G. Fortune (1954 – 2014). Wheel Of Fortune includes ambient and atmospheric pads. Symbolic 60 presets in total. Size of sound library is 620 MB. Compatible with Kontakt version 5.8.1 and higher (Player only demo mode).
---
Forever Free – Discuss this Freebie
Mensla has released MS-2 FM, a free 3 OP FM synth for macOS and Windows with phase, frequency (linear & exponential), amplitude, pan and filter modulation. It also features an oscilloscope and an FX section with reverb, delay, soft distortion and an arpeggiator.
---
Forever Free – Discuss this Freebie
Clutch is a classic Hammond B3 tonewheel organ, lovingly sampled. Known for its warm tone and mellow timbre, this iconic organ provides players with an incredibly wide dynamic range, creating both subtle nuances in sound as well as powerful blasts of harmonic force when needed. Clutch's high, low, and full drawbars deliver a classic, authentic Hammond B3 tonewheel organ sound, while the two percussive voices add an extra layer of expressiveness. Clutch can play the blues and improvise jazzy solos, but it also excels at rock, funk, fusion, and all modern variations of soul. Neatly capturing an iconic and versatile instrument, Clutch encourages exploration through experimentation.
---
Forever Free – Discuss this Freebie
The Bells is a virtual instrument featuring the sound of tuned bell sounds. Different sound design techniques have been used to create a range of highly usable bell tones. From resynthesized acoustic bell to FM synthesis and physical models. The instrument also features a nice set of real-life acoustic bell sounds. The onboard effects of the plugin version make this plugin highly versatile for different genres of music from trap to modern classical music.
---
Forever Free – Discuss this Freebie
Essence Plus is an advanced subtractive synthesizer with a fairly familiar and easily navigated interface. There are five total oscillators in Essence Plus, three of which are devoted to your typical analog waveforms. Users also get the option of blending in sub-oscillator signals and a noise oscillator with stereo width control. Each of the three main oscillators is multi-voice, capable of eight voices of unison, each with appropriate detuning and stereo controls.
---
Forever Free
This pack includes 10 dark and atmospheric cinematic ambient beds that are perfect for adding a touch of drama and tension to your projects. The beds come in both dry and wet versions, giving you complete control over the sound and level of reverb. Additionally, the pack includes 15 top-quality sound effects that can be used to enhance the overall impact of your project. Whether you're a filmmaker, game developer, or music producer, this free sample pack is a great resource for adding depth and emotion to your work.
---
Forever Free
Free Factory Plugin – Includes 74 Vintage Reverb Impulse Response Files – Including 4 from our True Stereo Libraries! This FREE vintage verb plugin download, comes in VST, AU and AAX and features a sampling of files contained in the Convology XT Library! There are no time limitations, iLok or frustrating unlocking hoops to jump through. Simply fill in the information on the licensing page and that's all there is to it.
---
Forever Free
Cool Wav releases Free Bundle (2021 – 2022), a collection of free plugins, sounds, and presets for music production. Cool Wav makes plugins, sound packs, and presets that fit a range of music styles. In 2021 and 2022, they released many free products that are now conveniently available for download as a single free bundle.
---
Forever Free – Discuss this Freebie
Housed in the prestigious Woodshed Recording studios in Malibu, this Yamaha C6 grand has been graced by hundreds of musical legends — from Lady Gaga, Paul Simon, Ariana Grande and Barbera Streisand, to Metallica, The Rza, and KoRn. Featuring just one preset, enjoy this piano in all its natural splendour, with pedal up/down controls and faithfully captured release triggers.
---
Forever Free – Discuss this Freebie
A void isn't a small thing, even though it may start out as a pinhole. This library began with a simple setup of an old guitar pedal and a keyboard. As the void began it's vacuum, it required more pedals, voices, diverse sounds, and an amplifier. This library was designed spefically for metal, ambient, and sci-fi cinematic music genres.
---
Forever Free – Discuss this Freebie
This is the Free Edition of a the larger Thyssia Sample Library. What do you get when you cross someone with nothing better to do, a client project to score, and a $5 tape recorder? There's probably a clever punchline there somewhere, but this is a Decent Sampler library focused on the nostalgic flavor of crappy cassette tape. This project was created for my own personal library, but I decided to release it because I think others will find these sounds very useful as well! Blending vocals, analog synthesizers, and 'evolved' textures, Thyssia is my take on the gritty nostalgic sound of tape perfect for providing a cinematic underbed, a subtle hint of spice, or a layer of organic undulating tape-y movement to your productions.
---
Forever Free – Discuss this Freebie
Cecilia is an audio signal processing environment aimed at sound designers. Cecilia mangles sound in ways unheard of. Cecilia lets you create your own GUI using a simple syntax. Cecilia comes with many original built-in modules and presets for sound effects and synthesis.
---
Forever Free – Discuss this Freebie
The Decent Samples plugin is a FREE sample player plugin that allows you to play sample libraries in the DecentSampler format.
---
Forever Free – Discuss this Freebie
MXTune isn't reinventing the wheel. It's a simple free autotune plugin that will help you correct the pitch of recorded vocals. The software resembles other pitch correction suites. This isn't an unfamiliar interface if you're familiar with software like Melodyne, Waves Tune, or Autotune. Automatic vocal tuning isn't too difficult in MXTune, allowing users to automatically constrain pitches to a specified scale. Manual tuning is also possible using a note editing interface similar to Melodyne or any other tuning software. You can drag nodes to a constrained pitch, editing vocal lines fairly seamlessly.
---
Forever Free
Get a behind-the-scenes look at the sound design techniques of Jason LaRocca with this free expansion pack of custom presets for film scoring and mixing inspired by his work on films and series like Dungeons & Dragons, Lord of the Rings: Rings of Power, Morbius, Godfather of Harlem, and Prey for the Devil. When we asked him how often he reaches for Soundtoys when mixing and writing for film, he named his top five tools.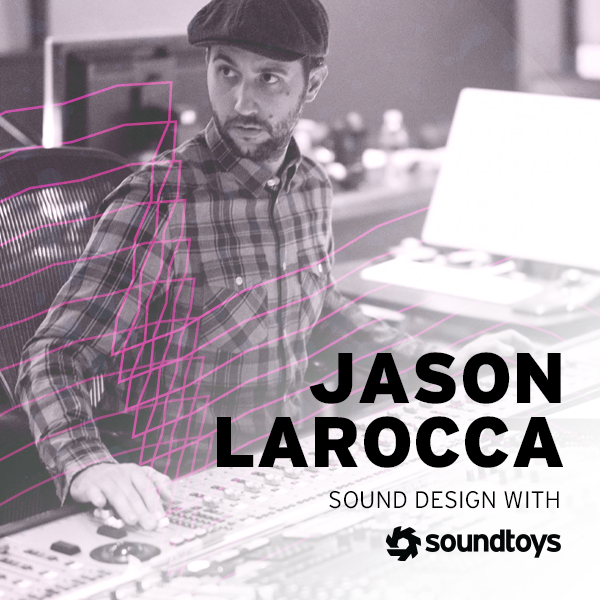 ---
Forever Free
Check out some examples of each of the presets contained in Soundscapes. These are just a taste of what variations can evolve over time on these drone presets for Effect Rack.
---
Forever Free
Morevox has announced the release of an update to its free collection of impulse responses, Battery drum kits, and more. The new Free Pack 2023 adds 10 stereo and immersive soundscapes, 4 new Gogs, 2 new Battery kits, and the AUX impulse response library by Sabino Cannone. AUX is a Compact Impulse Response Library that features a collection of Classic Studio reverbs. It's the perfect Aux Send Destination for your Tracks!
---
Forever Free – Discuss this Freebie
Handpans have magical overtones that enchanted us. Since we made one for CI, we kept wanting to find out what else is possible using this sound, and for the Frozen Pan, we found two new beautiful facets of the handpan:
Give it a slow attack for a brushed and mellow feeling, enrich it with a sustained sound we made using a frozen handpan sample, or combine and tweak both to create your own enchanting sounds.
---
Forever Free – Discuss this Freebie
Stargate DAW, an all-in-one DAW and plug-in suite for macOS, Windows and Linux, has been updated to version 23.02.1. It can Implement Soundtouch time stretching, pitch shifting algorithm. Make it the default algorithm for new audio items.
---
Forever Free – Discuss this Freebie
This free collection includes percussion instruments that are small enough to be held and played with ease, but they pack a powerful punch in terms of the rhythm and sound. Their versatility and unique timbres add texture and rhythm to a wide range of musical styles, from world and folk music to jazz and orchestral arrangements, and electronic music.
---
Thanks for reading. Hopefully you found something cool!
Check out previous FREE Plugins Reports for even more freebies! And remember… there is always a range of free effects, free instruments, and free studio tools available from our partner Plugin Boutique, so check those out too.
See you next time!