Welcome to the FREE Plugins Report!
Every week or two we will let you know about the latest news about free plugins. Click the 'Discuss this freebie' links to join the conversation in the biggest and best Plugin Deals and Freebies Group on Facebook.
Let's get right to it!
---
Forever FREE – Discuss this freebie
Experience a whole new approach to filter design. Choose from 24 unique filters and manipulate them like never before. Explore new types of morphing, vowel, phaser, peaking filters, and more.
---
Forever FREE – Discuss this freebie
Spread Light can be an indispensable tool, allowing you to narrow the stereo width of tracks or push
them wider in mixing and mastering situations. We've also added 2 different processing modes, so
you'll be able to create some yummy mixes.
---
Forever FREE – Discuss this freebie
Devastator Warzone is the third chapter of the newest addition to the Evolution Devastator Series which has established itself in the world of professional composers and sound designers.
Devastator Warzone is a premium collection of hand-crafted custom Signature Sound effects, Bass and Braams, Signals and Signs, Drum Loops, Pulses, Guns and Racharges, One Shots, Cinematic loops and Artist Stems. The library has modern and aggressive character that can be hear in a lot of trending movies and TV series. The Evolution: Devastator series will definitely be a irreplaceable part for movie and game sound designs, as well as for composing trailers and soundtracks.
---
End date unknown –  Discuss this freebie
This Freeware product is based on the Full Paid Wusik DRS1. The main differences are fewer tracks (4 compared to 8), fewer patterns (4 compared to 64), and fewer variations (2 compared to 4). Also, this version doesn't have a full-screen option, only one stereo output (compared to 8 outputs), and MIDI Channel is fixed to CH 10. You can also watch the Wusik DRS1 videos as both products share the same interface and options.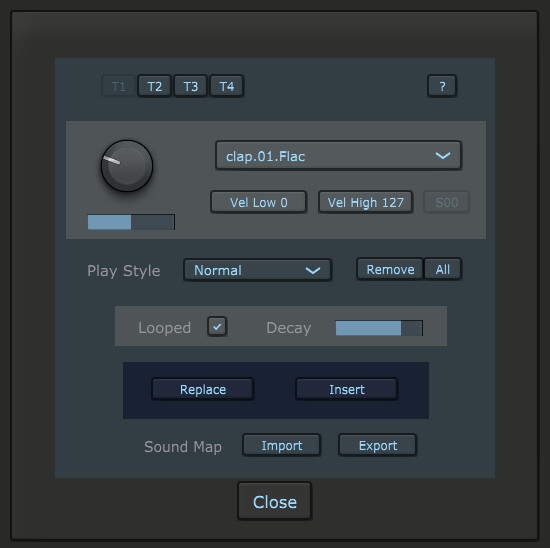 ---
Forever FREE – Discuss this freebie
Add the sound of nature to your track or score with this stunning selection of synth-like textures, created from organically-sourced field recordings. Captured in the English countryside, samples of thunder, rain, wind and birdsong have been combined and manipulated by Spitfire Audio in-house composer, Dan Keen, to create this truly unique set of atmospheric soundscapes.
---
Forever FREE – Discuss this freebie
SPATIO Light, heir of the renowned DX Reverb Light reverb, is the ULTIMATE FREE reverb plug-in. It provides astonishing quality and extreme flexibility, allowing you to simulate from small rooms with sudden attacks and coloration characteristic of small spaces to large natural-sounding spaces with spread attack and build of a concert hall.
---
Forever FREE – Discuss this freebie
The name of the VST plug-in is a suitcase word from the English terms "sawtooth" (German sawtooth) and "sausage" (German sausage) and is pronounced like the latter word. Behind the humorous name is a modern wavetable synthesizer with which you can create your own wavetables and unique sounds. What is special about SawSage (Lite) is that thanks to the wavetable synthesis, in addition to the 16 wavetables, individual waveforms can be drawn into the two oscillators in order to create new sounds.
Distinctive FM sounds and a wide pulse width modulation can also be implemented quickly. A lush filter section with 12 different filter types provides exciting timbres. The versatile modulation matrix, in combination with the LFOs, knows how to liven up the sound. Inspirational sequences can be achieved with the 16-step sequencer. An effects section with equalizer and chorus is also available. SawSage Lite contains a few selected presets, but you can also create your own sounds.
---
End date unknown –  Discuss this freebie
A sound library of exclusive experimental drums and percussion for you. And the best thing is, for a limited amount of time it is 100% free! After this time it will go straight into our shop and won't be available here anymore.
---
Forever FREE – Discuss this freebie
Function Loops LTD is a sound design company, officially launched in 2011. We develop sounds for DJs, producers, and musicians, who require to add inspiration to their work. Our products are constantly charting at Splice, Producer Loops, Loopmasters, Loopcloud, LANDR, and other main players on the market. As well, are being used by famous producers and DJs around the globe.
​
With hundreds of thousands of sounds to choose from, we deliver all the popular genres of electronic music.
---
Forever FREE – Discuss this freebie
Origins is a collection of multi-genre presets for Vital. This pack is especially useful if you have the free version of Vital. If you don't have Vital, you can download it now for free from Vital Audio
Origins isn't a hyper-focused collection of presets for Vital that centers around one genre. Instead, we wanted to make a diverse bank of sounds that you can use in a ton of different genres. You will find Vital preset for genres likes House, Future Rave, Hip Hop, Trap, Slap House, Pop, and more.
---
Forever FREE – Discuss this freebie
Following up the success of their first two freebies, which were exclusively made for Techno producers, the guys from Diode Eins set to work once again to create a new FREE House drum kit, including drum shots, loops, and bonus material taken from their latest album "Golden Hour". Just click on the button below to claim your download!
Contents
• 43 Drum Shots
• 44 Drum Loops
• 20 Melodic Loops
• 5 Tonal Shots
• 53 FX Elements
---
End date unknown
'Lil Godz' by Godlike Loops kicks off a brand new series of Hip Hop sample packs inspired by artists such as Roddy Rich, Ski Mask, Lil Pump, Da Baby, Tha Slump God, Quavo, Drake, Travis Scott and brings you another slice of innovative Trap, Club, Gangsta and Urban loops with MIDI files. With five radio-ready sample Construction Kits, this pack contains everything you need in order to produce the next street anthem, hood banger or even club hit. You will discover trunk-rattling melody patterns, pumping kicks, crisp snares and claps, 808s, Flutes, Guitars, Modern Piano Keys, Solo Violin, Strings, Synths, and hard-hitting drums.
All loops are 100% Royalty-Free, so you can use them into your commercial compositions at no extra cost.
Product Details:
• 5 Mixed & Mastered Demos
• 5 Construction Kits
• Key & Tempo Labeled
• Dry & Wet loops
• 98 Total Files
• 34 Melody Loops
• 52 Drum & Percussion Loops
• 6 Synth Bass & 808 Bass Loops
• 1 Vocal chops Loop
• 46 MIDI Files
• 44.1kHz/24-Bit Quality
• 100% Royalty-Free
---
Forever FREE – Discuss this freebie
Well-written hi-hats are arguably one of the most important parts of making catchy beats. Sizzle is a free collection of hi-hat MIDI and loops, to make building your next hi-hat pattern a lot easier and inspire new ideas, especially with the flexibility of the MIDI files. You'll be able to stretch or chop the loops, use them as they are, or customize the MIDI to your liking.
---
Forever FREE – Discuss this freebie
In 2012 James Yates began working on sample instruments whilst forging a career in engineering. Assisting and working for a multitude of Producers and Engineers in and around London. This lead to a long period of experimentation, making albums, instruments and establishing his highly coveted drumheads.
These instruments are things I want, what I want to use and think is cool. I think that is a pretty good ethos moving forwards. Hopefully you'll love them as much as I do.
Thanks for checking it out, James
---
End date unknown –  Discuss this freebie
From massive 808s and kicks to perfectly sharp snares and claps, Cartel has all of the drum sounds you need for creating a banger record. And these are easily some of the heaviest hitting drums that our team of sound designers have ever put together. Cartel includes tons of kicks, 808s, snares, hats, percs, drum loops, and much more!
---
Thanks for reading. Hopefully you found something cool!
Remember, there is always a range of free effects, free instruments, and free studio tools available from our partner Plugin Boutique, so check those out too.
See you next week!