Welcome to the FREE Plugins Report!
Every week or two we will let you know about the latest news about free plugins. Click the 'Discuss this freebie' links to join the conversation in the biggest and best Plugin Deals and Freebies Group on Facebook.
Let's get right to it!
---
Forever FREE – Discuss this freebie
AMP is our new effect plugin designed specifically as a tool to quickly make drum sounds punchier, more present, and more demanding in a mix. AMP is also a great all-around tool for individual instrument sounds when it comes to making them sound louder and more interesting without over processing or clipping..
A simple and CPU efficient Effect Plugin for elevating the perceived loudness of your drums and other instruments without overthinking it.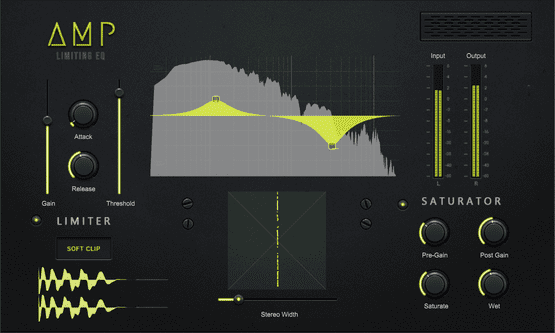 ---
Forever FREE – Discuss this freebie
The Finisher MICRO is UJAM's first audio effect that will kick off an entirely new series of plug-ins. With 25 Modes, each of which is a carefully sound-designed combination of pro-grade innovative effects, it will serve you inspiration and endless creative sonic variety. Consider it a magic spray finish for your audio tracks.
Finisher MICRO will keep inspiring you and protects you from recording or mixing a bland and boring track ever again. Best of all: It's entirely free!
---
Until August 3rd – Discuss this freebie
Art Deco Piano is a faithful recreation of a classic 1930's Blüthner® PH Grand Piano. Its build of metal, leather and other materials offers a bright and modern sound that we captured with a matched pair of Neumann TLM-170R condenser microphones running into top-quality studio preamps.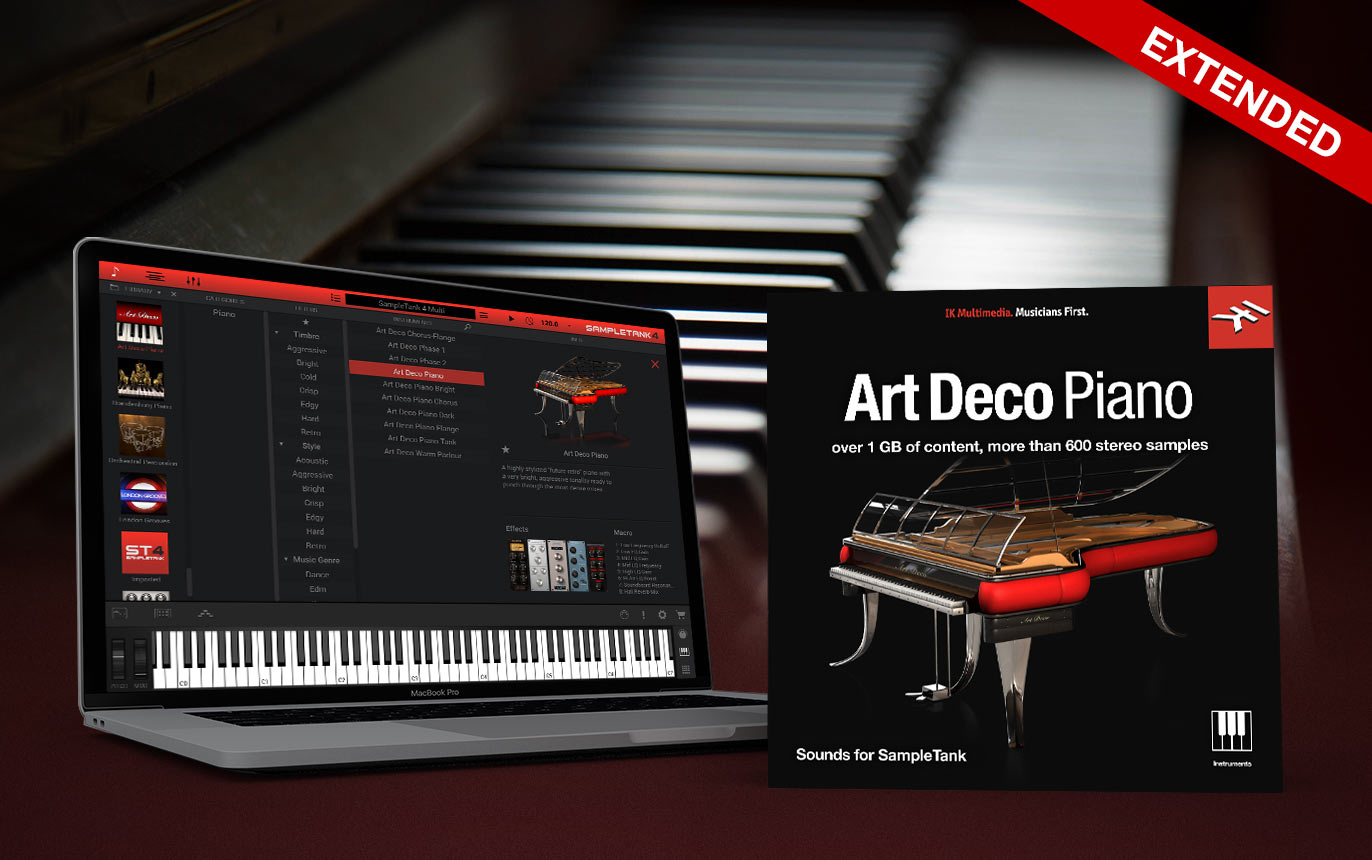 ---
Forever FREE – Discuss this freebie
Vastaus lives on instrument channels, buses and it is known to have been spotted on the master channel too. Feel free to use and abuse it. Try to add an EQ before Vastaus and push the highs way overboard and how Vastaus reacts. It is at it's most neutral at Input Gain and Tame at 0, at which time it brings down and blocks overly harsh high frequencies present in vocal esses, smooths cymbals, guitars and pretty much anything you throw at it.
Increasing Tame brings enhances that effect, but also brings in more options with the React switch, as well as with the Bias setting. React is a mode, where Tame starts to let through some transients in a really interesting way, bringing out more detail and clarity, but still smoothing the sound. With Bias, you can further control the sound by limiting the effect to either the positive or negative side of the audio samples, generating harmonics in the process. I have heard this referred to as silky, and apparently some well-known hardware unit makers use a process similar to this.
---
Forever FREE – Discuss this freebie
3Sampler it's a simple and easy-to-use sampler for those who want to save their resources using only three samples. Provides unique stereo dynamics. Use 3Sampler where you only need three samples.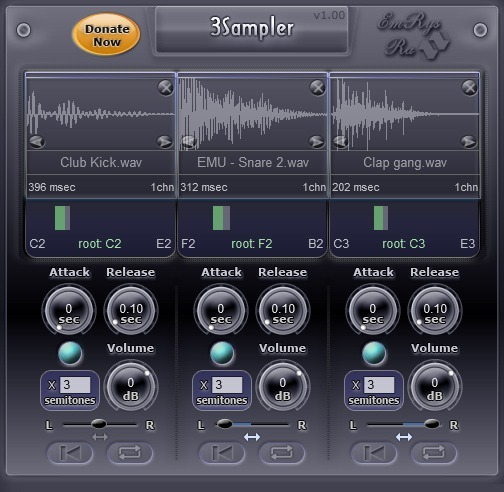 ---
Forever FREE – Discuss this freebie
Mac OSX Catalina/Big Sur and M1 Mac Support
4x oversampling with option for higher-quality, linear-phase oversampling when rendering
"De-kinked" preamp distortion algorithm for more accurate asymmetrical distortion
Expanded range of tone controls
Allow option for using v1.0 tone controls
Fully resizable GUI (VST3 only)
---
Forever FREE – Discuss this freebie
Our free snare drum VST plugin features ultra-realistic sound through physical modeling. Use MIDI notes to trigger the in-built exciter and change tip hardness and rimshot parameters. For added realism the MIDI triggered values can be adjusted with a bell shaped probability curve. The exciter feeds into a waveguide resonator algorithm which lets you change drumhead tuning, snares tension and hit position.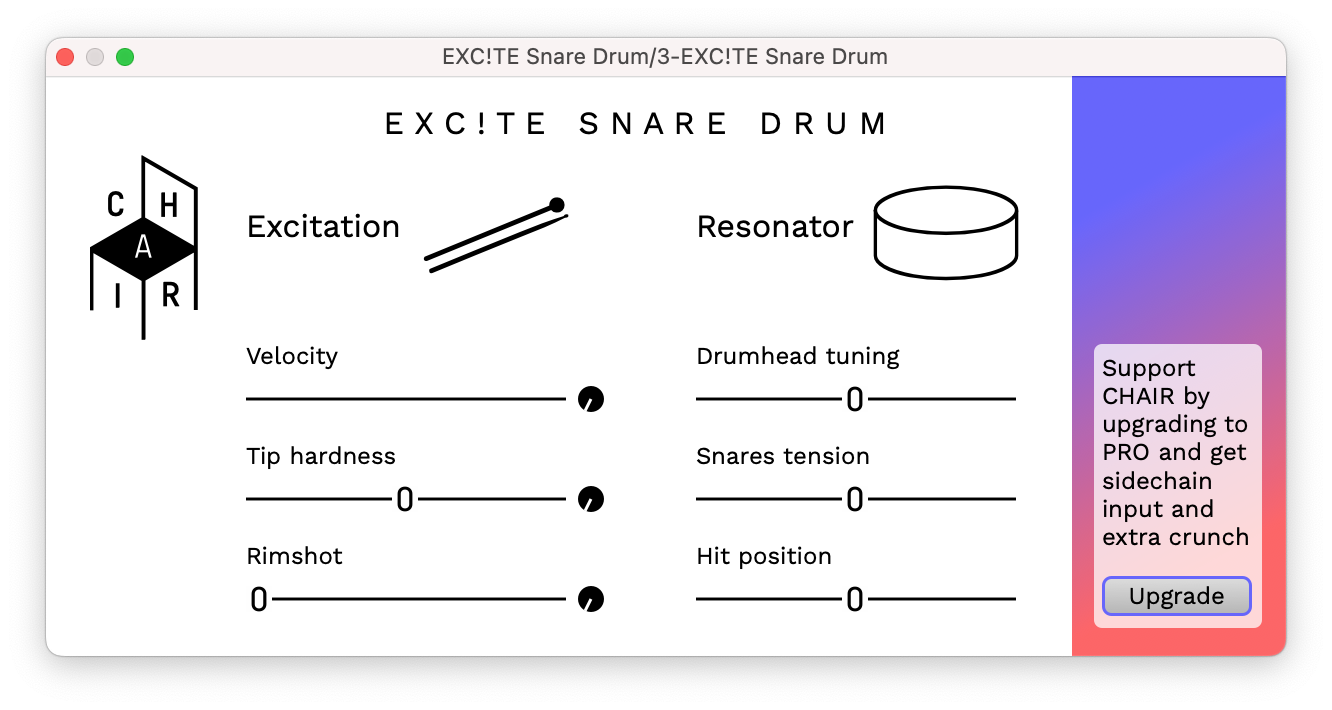 ---
Forever FREE – Discuss this freebie
This wok had cooked its last in the kitchen and was ready for a new life in the studio so we mic'ed it up and hit it with a variety of beaters to make a new free sample library for summer 2021.
Right hand and Left hand hits were recorded separately at up to 27 velocity layers for truly dynamic performance across 10 separate articulations. The core articulations were played with a Meinl Soft Rubber Tipped Mallet and include the inside center, sides and rim of the Wok plus hand muted versions of the same and also the outside center and sides of the Wok turned upside down. In addition to this, the Wok was also sampled by playing the inside sides with WHD Marimba Mallets and Vic Firth Heritage Brushes.
---
Forever FREE – Discuss this freebie
On a very rare occasion when there was a can of beer left over in the fridge, we decided to see if we could make some cool sounds out of it, rather than immediately drink it. Please enjoy 31 weird and wonderful .wavs made entirely from flicking, tapping, shaking, crunching, and dropping a cold, crispy can of beer and with some heavy processing. 5x Kicks, 5x Snares, 4x Snaps, 5x Toms, 5x Hats & 7x Misc.
---
Thanks for reading. Hopefully you found something cool!
Check out previous FREE Plugins Reports for even more freebies! And remember… there is always a range of free effects, free instruments, and free studio tools available from our partner Plugin Boutique, so check those out too.
See you next week!