Welcome to the latest FREE Plugins Report!
Every few weeks we will let you know the latest news about free plugins. Follow @newplugindeals on Twitter, join the Plugin Deals and Freebies Facebook Group, or check out r/newplugindeals on Reddit if you want to find out about the latest deals and freebies as they happen.
---
Until June 2nd –  Discuss this Freebie
Bandswitch is an audio effect that splits the incoming signal into three bands and processes them independently: You can modulate the amplitude (tremolo) or the panning position of each band. You can also modify the shape of the modulation and set the gain and overdrive process independently. Moreover, you can also add a vibrato (pitch modulation) independent for each band. The modulation rate can be modulated in turn by an LFO (there are, of course, three LFOs), and there are also two dedicated LFOs that can modulate the cross frequencies between the bands. After the Modulation/Distortion/Pitchshifing stage, each band goes to a dedicated delay line with feedback for further processing. Also, the delay time can be dynamically modulated.
---
Until June 9th
This soundset is inspired by artists and producers like: Metro Boomin, Drake, Post Malone, dvsn, ILOVEMAKONNEN, Mike Will Made It, Migos, Majid Jordan, PARTYNEXTDOOR, Roy Woods, The Weeknd and others. It is so unbelievably easy to make fantastic beats in seconds, because these chord progressions are proved in chart-topping records already. Add the ARPs on top of them in the higher registers and you will come up with a gem in a few touches.
---
Until June 15th
Chorust takes inspiration from classic hardware units and breathes new life into them with its advanced lo-fi and filter controls. With these intuitive parameters, you have the power to sculpt your audio's spaciousness and depth, effortlessly recreating the "sweet and silky" sounds found on many 70s/80s records. But Chorust doesn't stop there – it introduces ladder filters to add an extra layer of sonic character to your tracks. These legendary filters, known for their smooth and musical response, let you shape the timbre and frequency response of the audio, further enhancing its vintage authenticity. Sculpt your audio with precision, dialing in the perfect amount of modulation and width to captivate your listeners.
---
Until June 25th – Discuss this Freebie
Kuassa Pillar is a power amplifier simulator that utilizes vacuum tube emulation engine to enhance and complement the Efektor Gainia series preamps. Its primary function is to amplify the volume of the guitar sound and add a desirable level of saturation before it is projected through the speaker cabinet. You can turn off the cabinet simulator and use any impulse response file of your choice.
---
Until July 6th
The new Audiolens desktop app makes track referencing and comparison easy by analyzing audio from any streaming platform or audio source. Play your chosen audio through the selected output of your device and the application will collect data on key sonic characteristics, helping you to visualize, compare, and match your favorite reference tracks and sounds.
---
Forever Free – Discuss this Freebie
Made in collaboration with award-winning composer Hannah Peel, LABS Uilleann pipes features in her score for the National Theatre production of 'Dancing at Lughnasa'. Also known as the Irish Bagpipe, Uilleann pipes utilise multiple drones, regulators and chanters to produce acres of sonic possibilities. Performed with traditional Celtic flourishes and ornamentations, this rarely sampled instrument provides an unconventional way to add texture and interest to contemporary music.
---
Forever Free – Discuss this Freebie
Compatible with Kontakt 6.7 or later – NOT compatible with KONTAKT PLAYER
The original jet engine sampler instrument made from recordings of the following aircraft engines:
General Electric CF6
CFM International CFM56
Pratt & Witney F100
Rolls-Royce Pegasus
---
Forever Free – Discuss this Freebie
Latcher is a VST3i noisebox synth in the same vein as NANDroid and XORbot, and contains many of the same features as those previous synths. The sound-generating part is something of a cross between a circuit I built called the Modutronic Messmaker (an AM/FM noisebox), XORbot, and an Atari Punk Console. It combines an AM/FM oscillator configuration with the osc-triggered monostable of the APC.
---
Forever Free – Discuss this Freebie
An open-source, cross-platform synthesizer that uses pitch detection to choose candidates for granular synthesis or sampling. gRainbow was created to overcome a few shortcomings of traditional granular synths. Pitch variations in the input clip can produce inharmonic tones, which isn't always wanted. This leads users to often use short single-pitch clips, restricting the synth to a single timbre. Manual pitch matching to the input clip is often required to produce the correct notes with MIDI input, which can be difficult and repetitive. Pitch shifting is commonly done with time-stretching, which can create unwanted artifacts when shifting multiple octaves in either direction.

---
Forever Free – Discuss this Freebie
The free and open-source pattern-based arpeggio generator LibreArp has been updated to version 2.5, bringing selection duplication, pattern playback offset, manual time signature, and more. LibreArp is a MIDI effect plugin that takes chords in the form of MIDI input and outputs so-called arpeggios based on the input chords. Arpeggios are generated using a user-created pattern. Each input note is given a number, based on its pitch (lowest to highest). The pattern then determines which note number should play when.
---
Forever Free – Discuss this Freebie
The Yamaha SY77 is a legendary synthesizer from the golden age of synths, first unleashed upon the world in 1989. This little-known synthesizer kicked some serious ass in the world of FM synthesis, earning its title as the "King of FM."
---
Forever Free – Discuss this Freebie
A realistic Accordion Instrument Rack for Ableton Live! Made from samples of a vintage Mussi Corvette Accordion.
---
Forever Free – Discuss this Freebie
OccularScope, a FREE beat-synced oscilloscope plugin for macOS, Windows, and Linux, is now in version 1.3.1. The handy plugin has been around for a few years, and I'm sure many of you have already put it to the test. But, for anyone who hasn't yet, here's a quick recap. OccularScope, from Bom Shanka Machines, is a free oscilloscope plugin with a few handy features.
---
Forever Free
Sci-Fi Energy Weapons is a complete arsenal of futuristic, modern and sci-fi weaponry. We approach this collection with both a highly experimental and practical touch. Further, we aim to give you source material from real-world objects as well as synthesized sounds to design your unique ideas and a variety of fully designed energy weapons for use in your game, film, TV, advertisement or other media.
---
Forever Free – Discuss this Freebie
ChowMultiTool is a "Swiss Army Knife" plugin containing several tools that might be useful to have in your DAW. The tools include:
EQ with linear phase and "drawable" capabilities
Waveshaper with minimal aliasing and lots of customizability
Band-Splitter with multiple outputs and perfect reconstruction
SVF with keytracking and parameter modulation (CLAP only)
---
Forever Free – Discuss this Freebie
The first of its kind, MNDALA is built to use our ultrasonic samples recorded at 32bit/384Khz and play at an industry-leading 24bit/96Khz within all VST3/AU compatible DAW's. This allows for extreme pitching and manipulation of the sounds while retaining a resolution never before available in this form. MNDALA's complex sound design possibilities combined with our pristinely recorded samples open up entirely new worlds of sonic expression.
---
Forever Free – Discuss this Freebie
Compose, play and print your own sheet music with Dorico SE, the fast, free, easy-to-use music notation software from Steinberg. Including many of the same powerful tools that professionals rely on, Dorico SE is the perfect starting point for producing beautiful scores for up to two players.
---
Forever Free
Meticulously sampled sounds from multiple 80s synths and emulators offers a rich palette of tones and timbres that evoke the spirit of Stranger Things. Infuse your creations with the dark and chilling sounds of 80s culture. Explore the deepest & darkest secrets of the past our parents did not warn us about. Enjoy over 80 Sampled Instruments + 100 Factory Presets. All 100% Free.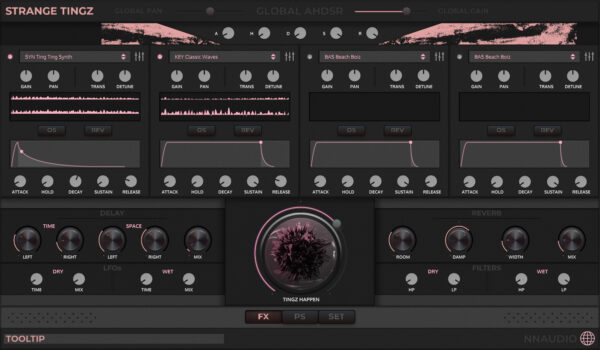 ---
Forever Free
Sampled sounds from multiple digital & mallet style toys offers a rich palette of tones and timbres that evoke the spirit of your Inner Child. Infuse your creations with the Fun, Buzzing & Bright sounds of our childhood. Explore the corners of your brain looking for the memory this sound is attached to. Enjoy over 150 Sampled Instruments + 100 Factory Presets. All 100% Free.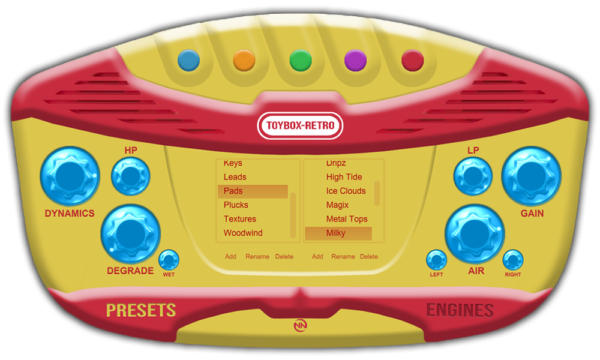 ---
Forever Free
Unlock your musical potential with this brand new free melody pack. Explore a collection of 15 mesmerizing melody loops carefully crafted to inspire your creativity. From uplifting chord progressions to hauntingly beautiful melodies, this pack covers a wide range of musical styles suitable for many genres. The loops come in 140 and 150 BPM. What sets this freebie apart is the inclusion of MIDI files for each melody loop. This gives you the freedom to customize and personalize the melodies to fit your artistic vision. Modify the notes, experiment with different instruments, and create your unique sound.
---
Forever Free – Discuss this Freebie
---
Forever Free – Discuss this Freebie
Wavosaur is a cool free sound editor, audio editor, wav editor software for editing, processing and recording sounds, wav and mp3 files. Wavosaur has all the features to edit audio (cut, copy, paste, etc.) produce music loops, analyze, record, batch convert. Wavosaur supports VST plugins, ASIO driver, multichannel wav files, real time effect processing.
---
Forever Free – Discuss this Freebie
StandaloneHost is a utility that can host one V2 Audio Unit soft synth. This is useful for playing soft synths that do not provide a standalone program, without starting up a DAW or other hosting app. It is essentially the Mac equivalent of the popular SAVIHost program for Windows with additional features.
---
Forever Free – Discuss this Freebie
Ronan Fed has launched an update its free subtractive polyphonic synthesizer for Windows. Version 1.4 of Pneuma comes with new presets, modifications to the user interface, and various other improvements and fixes.
---
Forever Free
Experience massive electro-cinematic sci-fi sounds, huge analog and modular synths, a beautifully crafted multi-mode filter, unique modulating multi-fx, and so much more. Easily intensify the sound with dedicated macros and modulation controls, or dive deeper into Xperiment's filters and fx. Get this Kontakt library FREE by subscribing to our newsletter at the bottom of this page.
---
Forever Free – Discuss this Freebie
---
Forever Free – Discuss this Freebie
Creepy Piano 3 Lite has a lo-fi touch and contains processed piano samples originally recorded from Steinway & Sons A-188 and Yamaha C3 pianos; all the presets from the previous version are included too. The interface is user-friendly and straightforward with ADSR amplitude envelope, LFO modulation, lowpass/highpass filter and cutoff. New effect modules were added – delay and reverb, each of which comes with typical controls and parameters.
---
Forever Free – Discuss this Freebie
Lo is a sub bass that will effortlessly lay the foundation for any modern production. Based around the Moog Taurus sound and sculpted using high quality outboard gear (REDDI Tube DI, Thermionic Culture Vulture, Manley ELOP, and Eventide H3000), Lo's detailed sampling coupled with its clean interface will make it your go to bass synth. The ADSR, the three different settings ("Smooth", "Punch", and "Aggressive"), and the optional "Wide" effect allow you to dial in a range of synth bass tones that will sit perfectly in any type of arrangement or mix.
---
Forever Free
Introducing our brand-new free MIDI Construction Kits! Unleash your creativity with five meticulously crafted construction kits, each packed with a variety of MIDI files designed to elevate your music production. Each construction kit within our collection is a treasure trove of musical elements, including arps, basslines, chords, keys, and melodies. The best part? All MIDI files in every kit are meticulously organized and expertly composed to ensure they are in the same key, enabling seamless integration and harmony. By providing these construction kits in a single key, we've simplified the process of creating cohesive and professional-sounding tracks.
---
Forever Free – Discuss this Freebie
Solaris GTR Lite is a FREE virtual instrument that gives you awesome electric guitar sounds for your music creations. You can use it for Lo-Fi, Ambient, Chillout, Downtempo, Relaxing and/or Meditation Music as well as Hip Hop, Trap and other EDM genres. It comes with 6 presets that are based on an IBANEZ AS73G electric guitar that has been processed with premium effects pedals and plugins to create beautiful and dynamic tones. You can adjust the sound with simple controls for ADSR envelope, filter cutoff, LFO modulation, volume, pan & tune.
---
Forever Free – Discuss this Freebie
---
Forever Free – Discuss this Freebie
Decent Samples releases the rustic and charming new library, Folk Art Violin – and it's FREE. I'm sure most of you are familiar with David Hilowitz and his work with Decent Sampler by now. If not, David is a classically trained musician who creates some unique and free libraries for Decent Sampler (which is also free).
---
Forever Free – Discuss this Freebie
Formula is a free and open-source integrated development environment to create, debug and test your own audio effects the simplest way possible. Formula can either be used as an effect plugin inside your DAW (VST3 or AU), or as a standalone application. The effects within Formula are made using the C programming language.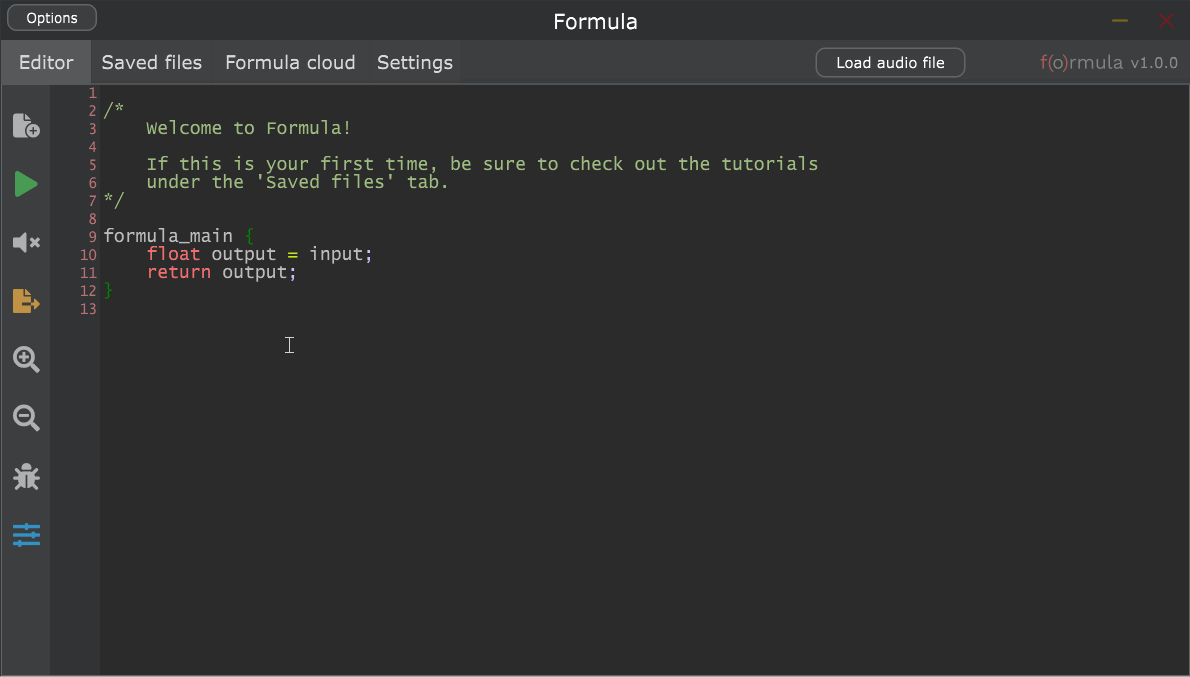 ---
Forever Free – Discuss this Freebie
G57FX is a module based effect unit with 6 effect modules and 3 analysis modules operating in stereo and mid side. It is oriented toward mixing and production, and works great for creative effects in sound design as well.