Welcome to the FREE Plugins Report!
Every week or two we will let you know the latest news about free plugins. Follow @newplugindeals on Twitter, join the Plugin Deals and Freebies Facebook Group, or check out r/newplugindeals on Reddit if you want to find out about the latest deals and freebies as they happen.
---
Until June 23rd,
Analog Lab Intro gives you access to the most iconic synth and keyboard sounds of all time, taken from 28 expertly-crafted V Collection instrument emulations. From analog synthesizers to revolutionary digital workstations, these are the sounds that made history.
---
Until June 30th,
With a visual and creative workflow, HALO combines meticulously crafted re-sampled audio with a host of synth layers, processing and FX to make huge sounding basses, leads, pads and more.
---
Until June 30th,
An exclusive Lite version of Playbeat 3, which helps you create fresh, killer drum grooves that will skyrocket your creative musical power.
---
Until June 30th – Discuss this freebie
Tape MELLO-FI is an easy-to-use plugin that brings instant chill atmosphere and vintage tape-aged warmth to any sound.
---
Until June 30th – Discuss this freebie
From left to right, the center position of the – Rob Papen – brand has always been about creating plugins that think outside of the box whilst being extremely useful at the same time, this of course really 'pans' out literally in your music productions!
---
Forever Free
At W. A. Production, we're proud to have been providing music producers with the best quality samples, plugins, and learning tools since 2014. In honor of our 8th anniversary, we're excited to bring you a collection of some of our best sounds from the past year, and the best part — it's 100% free! Introducing the W. A. Production Free Anniversary Collection Vol. 8!
---
Forever Free
The first in a series of free sample packs from Big 5 Audio with over 100 bass samples! Also included in the pack are Serum and Massive patches for those who want to further resample sounds. Get stuck in with sounds that have been designed for multiple genres like Dubstep, Neurofunk, DNB and Electro to mention a few.
A series of 21 customisable bass patches and 5 wavetables for Xfer Records Serum synthesizer, specifically designed for genres like Neuro, UK Bass and Dubstep.
---
Forever Free – Discuss this freebie
Another month, another free Live Pack of a Mellotron sound. The Mellotron, a keyboard precursor to the sampler, was made famous in classic hits like Strawberry Fields Forever by The Beatles or Space Oddity by David Bowie. This Live Pack features the Mellotron Trumpet preset, each note individually sampled by Taijiguy.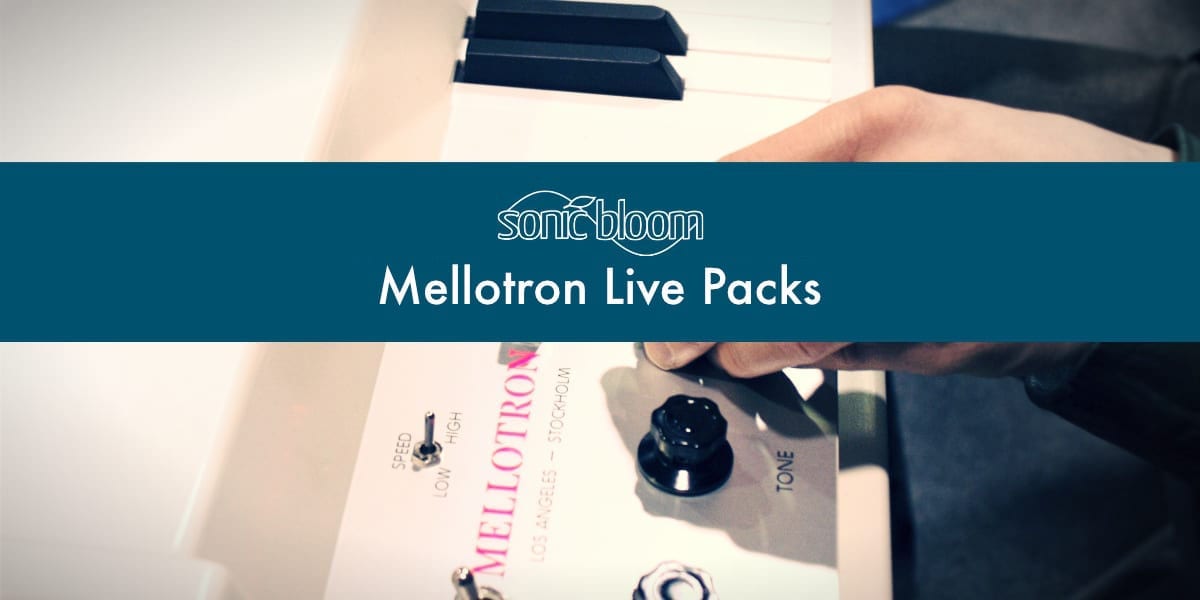 ---
Forever Free – Discuss this freebie
A while ago, Taijiguy got in touch with me to let me know that he had sampled further tapes from his Mellotron. I finally got around to creating Simpler presets as well as Instrument Racks for each of the five new instruments that had each note individually sampled.
---
Forever Free – Discuss this freebie
Stylo Synthesis is a virtual recreation of the famous portable organ from the 60s. Most stylophone plugins and libraries use very short samples that don't reflect the unstable nature of this instrument. For Stylo Synthesis, each note has been sampled for 5 seconds to capture these magic imperfections. The result is the most accurate stylophone emulation, preserving the attack and sustain of the original instrument.
---
Forever Free – Discuss this freebie
Love-Fi 2 is a free VST/VST3/AU instruments, specially designed for composition and production of Lo-Fi beats, ChillWave, Chillhop or Lo-Fi Ambient among others.
https://www.youtube.com/watch?v=hguxc-p4VOw
---
Forever Free – Discuss this freebie
Check your mix with mono – free plugin for effortless true mono monitoring.
---
Forever Free – Discuss this freebie
The Vee One Suite are free, open-source Linux Audio software, distributed under the terms of the GNU General Public License (GPL) version 2 or later.
---
Forever Free – Discuss this freebie
Explorer is a powerful application that allows you to manage your files with enormous control. Designed from the beginning to work with and support surround and immersive formats, you get incredible control over them – from how you listen to, organize, and even integrate them into your workflow. And all of this for free.
---
Forever Free – Discuss this freebie
7 Chorus, 7 Delays, 7 Hall Reverbs, 7 Room Reverbs, 7 Large Space Reverbs, 7 Special Massive Reverbs.
---
Forever Free – Discuss this freebie
We found a nice charming toy piano and some toy bells in an old cellar the other day. Of course we pulled out our field recorder to capture the charm and lofi character of both instruments for you.
---
Forever Free
"Retouched" isn't just another boring collection of free Linn Drum samples. Instead, you'll get 49 brand-new drum hits based on the beloved Linn character but manipulated using magic sound design and processing techniques to fit the needs of a modern music producer.
---
Forever Free
TaraLEAD implements a special HARD distortion algorithm coupled with an asymmetric wave clipping mode. You can change the tone of the distortion/Fuzz sounds using the DRIVE knob and if you feel that the sound is too TRASH, you can reduce this feeling by playing on the FILTER Knob.

---
Forever Free – Discuss this freebie
The notes of the pressed chords are automatically lined up from the lowest pitch to the highest pitch, creating musical polyphonic pattens according to the beat moments in the seq window.
A circular note flow display for fun.
---
Forever Free – Discuss this freebie
ValhallaSupermassive has been designed from the ground up for MASSIVE delays and reverbs. Get ready for luscious clouds of reverb, otherworldly delays, and swelling waves of feedback unlike any you've heard before.
---
Forever Free
Sound Fx bank from nature, people, machines…
Helps to create intro for your beats or compositions.
---
Forever Free
SSCS15D is a custom instrument based on the legendary Yamaha CS15D with some big additions. We combined the bright and recognizable character of the synth with sparkling spaces and an intuitive, flexible gate sequencer. Use the CS15D without limiting yourself to any specific music genres. It's perfect for everything from powerful, roaring bass lines as well as recreating the sounds of neon pads from the 80s and the style of 8-bit tracks. Be sure to add this powerful new instrument to your collection!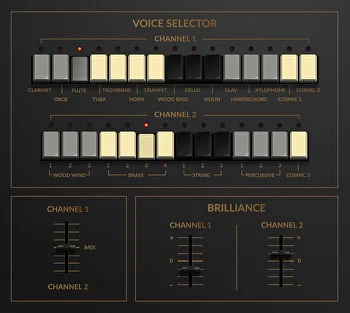 ---
Forever Free
When you think about the harp, you may immediately think of the angelic sounds that only this magical instrument is able to produce. Most of all, it's the glissando that evokes notions of celestial music and heavenly dreams.
---
Forever Free
Discover a professional world and download free sound effects available in high definition. Created by our award-winning sound designers, our free sound packs deliver high-resolution recordings that are used in the latest blockbusters and most popular video games around the world.
---
Forever Free – Discuss this freebie
NoisePalette is unique because it allows you to dial in the precise spectral roll-off, from red (-6 dB/Oct) to violet (+6 dB/Oct). The generated noise signal can then form the basis for a wide range of useful sound effects, by sending it through a modulator, granular synthesizer, or any other processor. Such effects range from room tones of vehicle cabin interiors, natural ambiances such as rain, wind, and surf, or the high-frequency sounds of gas leaking and fizzing. Alternatively, the noise signal can be mixed into existing sound assets to thicken or give them more presence.
---
Forever Free
Here's a Free Sample Pack in celebration of Cool WAV reaching 1,000 Subscribers on YouTube!!
---
Forever Free – Discuss this freebie
epicPLATE delivers an authentic recreation of classic plate reverberation. It covers the fast and consistent reverb build up as well as that distinct tonality the plate reverb is known for and still so much beloved today. Its unique reverb diffusion makes it a perfect companion for all kinds of delay effects and a perfect fit not only for vocals and drums.
---
Forever Free
Mel-Lofi is a free virtual instrument plugin (ROMpler) for digital audio workstations on Windows and macOS. This virtual instrument is based on the Mellotron samples recorded by Taijiguy and brings a total of 23 presets distributed across 5 main instrument categories.
---
Forever Free – Discuss this freebie
The new SampleTank 4 has been re-designed from the ground up to be every musician's "go to" workstation for music creation, with a completely new rescalable interface, a massively expanded sample library and a new cutting-edge sound engine with efficient disk streaming, to deliver more powerful music creation tools than you ever imagined. What might usually take dozens of plug-ins can be accomplished right inside SampleTank 4, for lightning-fast workflow that keeps your inspiration going.
---
Forever Free
MODO BASS 2 is the expanded edition of IK's industry-first physically modeled bass virtual instrument, adding 8 new basses, including new fretless and upright options, a new patterns section with tons of new grooves, advanced performance controls and more ways to enter the MODO BASS world.
---
Thanks for reading. Hopefully you found something cool!
Check out previous FREE Plugins Reports for even more freebies! And remember… there is always a range of free effects, free instruments, and free studio tools available from our partner Plugin Boutique, so check those out too.
See you next time!