Welcome to the FREE Plugins Report!
Every week we will let you know about the latest freebies to appear in the wild so you can check them out for yourself. Click the 'Discuss this freebie' links to join the conversation in the biggest and best Plugin Deals and Freebies Group on Facebook.
Let's get right to it!
Forever FREE – Discuss this freebie
Have you ever struggled to tune your 5 string bass? Or drop G guitar? We have a solution for your problems. Tuna can easily catch notes down to 40hz without any hesitation. It's the perfect tool for your studio or live setup. Go grab it! It's free in vst3, au, aax and standalone formats, as well as for iOS and iPadOS. …and it's resizable.
---
Forever FREE – Discuss this freebie
This is a 1024 channel vocoder. The modulator input – usually a sung or simpjy spoken voice – is analyzed with respect to its spectral content, which is then applied to the other sound source – the carrier. The latter may be any externally supplied signal ranging from pink noise, synth pads, guitar or even drums.
Alternatively, there is an internal, MIDI driven synth which is optimized for best speech reproduction fidelity. You can blend the high frequencies with noise for more natural sounding plosives and fricatives. Threre is also a noise gate, a compressor and a stereo reverb on board.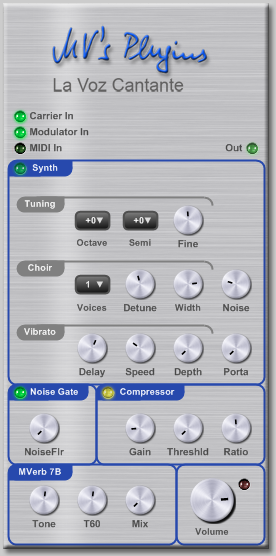 ---
Forever FREE – Discuss this freebie
Vst for detecting chord with clean interface.
---
Forever FREE – Discuss this freebie
AERA is a FREE library with 20 hard-hitting and cutting-edge sound effects for trailers as well as for movies, television, video games, and other visuals.
---
Forever FREE – Discuss this freebie
"After a recent deep dive into early rave records, I went down a rabbit hole to find out what synths were responsible for the sounds that made the music so special. So we grabbed a handful of vintage Kawaii synths and fell in love with the K3 (1986), K1 (1988), and GB-2 A.K.A. Session Trainer (1991)."
---
Forever FREE – Discuss this freebie
"A secret trick to get natural yet powerful sounding compression is to use multiple compressors in series. FirePresser offers you four of the most iconic analogue compressor emulations in a simple interface, which lets you blend all of them easily and get lush analogue compression to any material in no time."
---
Forever FREE – Discuss this freebie
"STAGE is a FREE Gain Staging and Stereo Enhancing Plugins for Mac & PC. Available as AU and VST3 plugins.
It has several modes: Narrow, Mono, Stereo, Normal, Wide, Wider, Super Wide modes.
Comes with bunch (sic) of Factory Presets and user can save custom presets as (.rdg) file format."
---
Forever FREE – Discuss this freebie
GSat+ is derived from the saturation module on the TBProAudio CS5501V2 channel strip plug-in, but adds extra features requested and suggested by the Gearspace.com team.
---
Thanks for reading. Hopefully you found something cool!
Remember, there is always a range of free effects, free instruments, and free studio tools available from our partner Plugin Boutique, so check those out too.
See you next week!