Welcome to the latest FREE Plugins Report!
Every few weeks we will let you know the latest news about free plugins. Follow @newplugindeals on Twitter, join the Plugin Deals and Freebies Facebook Group, or check out r/newplugindeals on Reddit if you want to find out about the latest deals and freebies as they happen.
---
Until October 21st
HoRNet HTS9 is a tube screamer vst overdrive modelled after a famous pedal produced by a Japanese manufacturer made since the first years of the 80s.
---
Until October 23rd
GK Amplification 3 Pro is the next step in the evolution of this fan-favourite plugin. With three exceptionally well modelled amps, an added smart gate and compressor and a reworked UI, GK3 Pro is the most advanced GK amp sim out there. Save or upgrade to Pro with up to 75% off or grab the LE version absolutely FREE for a very limited time only!
---
Until October 25th – Discuss this Freebie
Muze Aquamarine Lite is a huge Inspiring collection of innovative new sounds and atmospheres, textures, pads & synths for music, sound design and cinematic composition. Developed for use with the full version of Kontakt 5.8 or higher, Aquamarine is an all-in-one tool for crafting soundtracks, cinematic music, epic music trailers in fact any music that requires powerful, inspirational, hybrid synth sounds.
---
Until October 30th
Darksichord 3 is a Harpsichord virtual instrument plugin for DAWs and other plugin hosts on Windows and macOS. Darksichord 3 is sourced from the 3 sound layers that made up the original version, but now comes with different textures and nuances for a much darker sound and more character.
---
Until October 31st
Lifeline Expanse Lite creates authenticity and realism by using intricate re-amping techniques. Re-amping is the process of taking an audio signal and playing it out in an environment. The signal is sent through amps, mics and effects to add color, texture and depth, then re-recorded. Lifeline Expanse Lite distils this complex technique into a modern, sleek workflow that offers producers instant flexibility and control over every element. Rearrange the signal chain and delicately blend effects using each module's unique controls.
---
Until November 1st – Discuss this Freebie
The AmpliTube OverScream is based on Ibanez® Tube Screamer, a classic overdrive/distortion pedal that has become the go-to overdrive pedal for some of the most influential guitar players of all time. Its basic controls make it easy to dial in the exact sound you want.
---
Until November 2nd
A peak level meter with Halloween flair. Available as a plugin (AAX/VST3/AU) and as a standalone app (no DAW required). Five creepy heads provide you with peak metering at 0, -6, -12, -24, and -36 dB thresholds. The red devil at the top also functions as a peak hold – it will remain lit if the signal peaks hit 0 dB, until reset by clicking anywhere in the window.
---
Until November 6th
The full version of Heavyocity's PUNISH is a saturation, compression, and distortion plugin. With three types of saturation, including valve and classic preamp overload emulations, PUNISH can create various distortion effects – from a warm tape fuzz to full-blown industrial noise.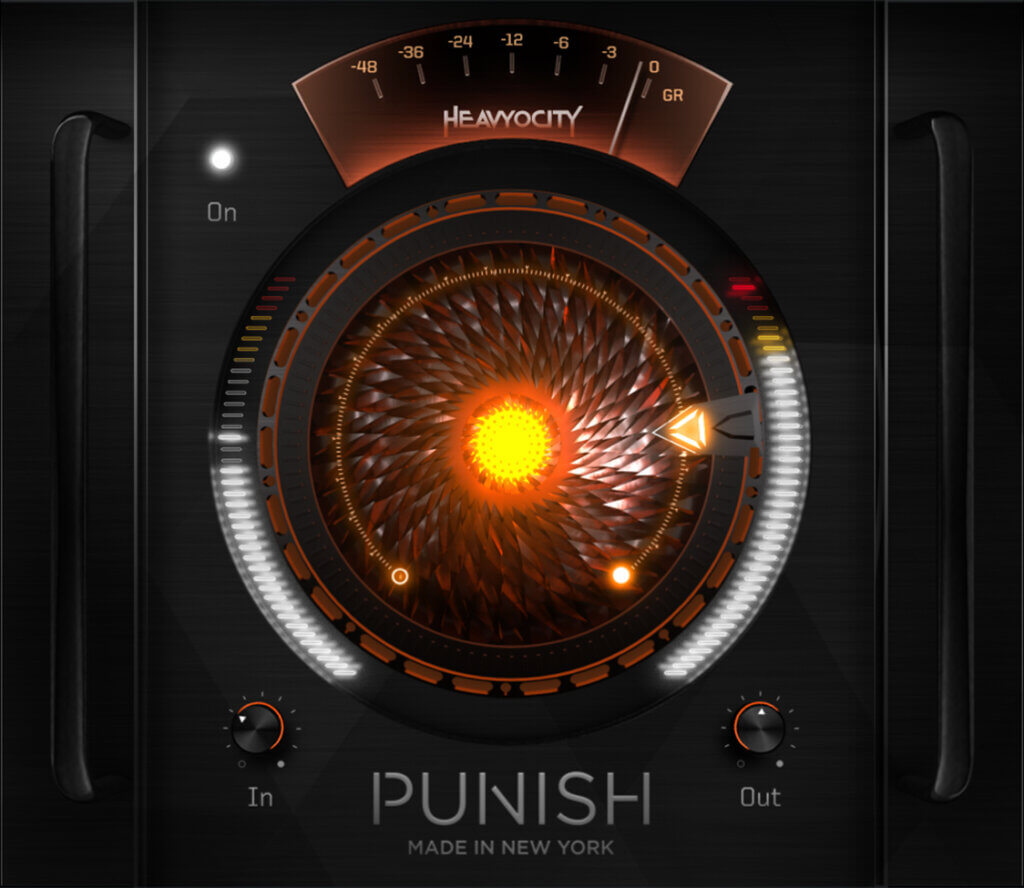 ---
Until January 12th – Discuss this Freebie
MASSIVE is the ultimate synth for bass and leads. The high-end engine delivers pure quality with a diverse range of sounds, from soft to outright dirty and everything in between.
Effortlessly get your mixes radio and streaming ready with Ozone Elements. Building on a two-decade history of best-in-class processing, Ozone Elements has the essential tools and assistive technology you need to quickly achieve a full, rich, and loud final master.
---
Forever Free
You'd be hard-pressed to find a piece of gear that's in more pedalboards than this legendary classic from the 70s, and there's a good reason for that: instead of spending hours finding the right attack/release/ratio combination, you can rely on the fact that this is the piece of gear that has stood the test of time as being the perfect match for guitar and bass.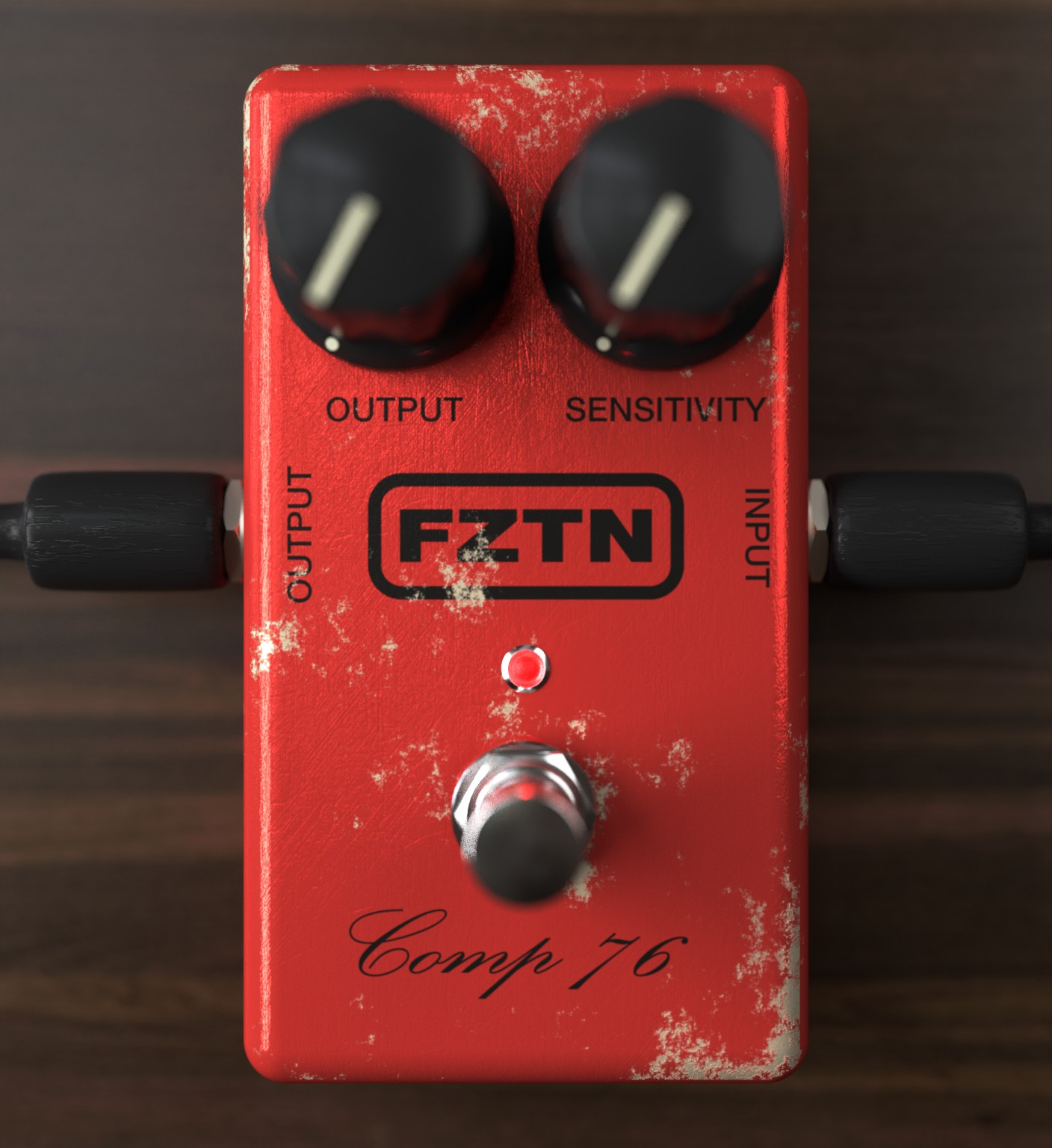 ---
Forever Free – Discuss this Freebie
T-Puncher Free is the fastest way to control the sound's transients to make your tracks punchier or softer with one single knob. Use this free plug-in and explore the T-Puncher premium for even a more pro sound.
---
Forever Free – Discuss this Freebie
GPU Audio™ is designed as a platform for creativity. Our team is developing a wide array of valuable features created with music and Pro Audio production in mind, from the studio to the live stage and broadcast to virtual production.
---
Forever Free – Discuss this Freebie
EasyGate unit is based on the NoiseGate guitar pedal and is designed specifically to respond primarily to the guitar's frequency range. As practice shows, it is often enough only one knob to setup the Gate effect, and this principle is implemented in the EasyGate unit. For the dirtiest and most aggressive mixes there is Hard mode provided in this unit, which significantly increases the sensitivity of the effect as compared with the standard mode of operation.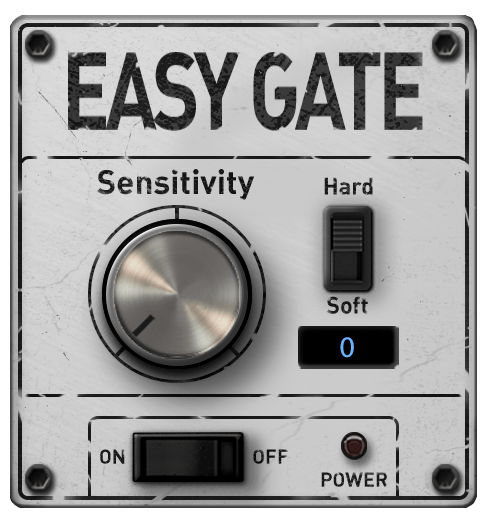 ---
Forever Free – Discuss this Freebie
Even though extensively revised, ThrillseekerVBL remains true to its credo and combines musical gain-riding and thrilling distortion. The mkII version improves both the user experience and its technical implementation, giving more sonic control and a versatile sound. Being able to reproduce quite a range of tonalities now, ThrillseekerVBL has become a true tonebox that can deliver Variable-Mu style tube compression whether soft and mellow or punchy and raw.
---
Forever Free
The Magical Musical Thing was produced by Mattel, and invented by Franklin Eventoff, inventor of the Force-Sensing Resistor. Franklin now runs a company called Sensitronics that produces sensors. The oscillator contained within the MMT is based on a 4049 CMOS hex inverter chip.
The charming bell sounds of a Japanese children's toy from the fifties. The instrument was produced by Nomura (T. N.), a large manufacturer of tin-plated electronic toys. Although the item described itself as an "electric vibraphone," it bears no resemblance to that instrument, and instead features an array of bells which are struck by a spindle.
---
Forever Free – Discuss this Freebie
Free electric basses for use in a wide range of music, production, and composition. From smooth walking basslines to funky solos, Crux has you covered. Included are four classic types of electric bass guitars—Jazz, Precision, Vox, and Music Man—all with plucked, fingered and muted articulations.
---
Forever Free
Dual Delay is like a regular delay that wants to be a reverb and ends up being something cool and new instead, with its double delay lines working in tandem to give you rich and complex echoing systems in seconds.
---
Forever Free – Discuss this Freebie
Currently in the oven is the LivingRoom Upright Intermediate Edition, in development for Kontakt, SFZ and EXS24. Below you can get the free edition and we'll notify you when the Intermediate Edition reaches the shelves.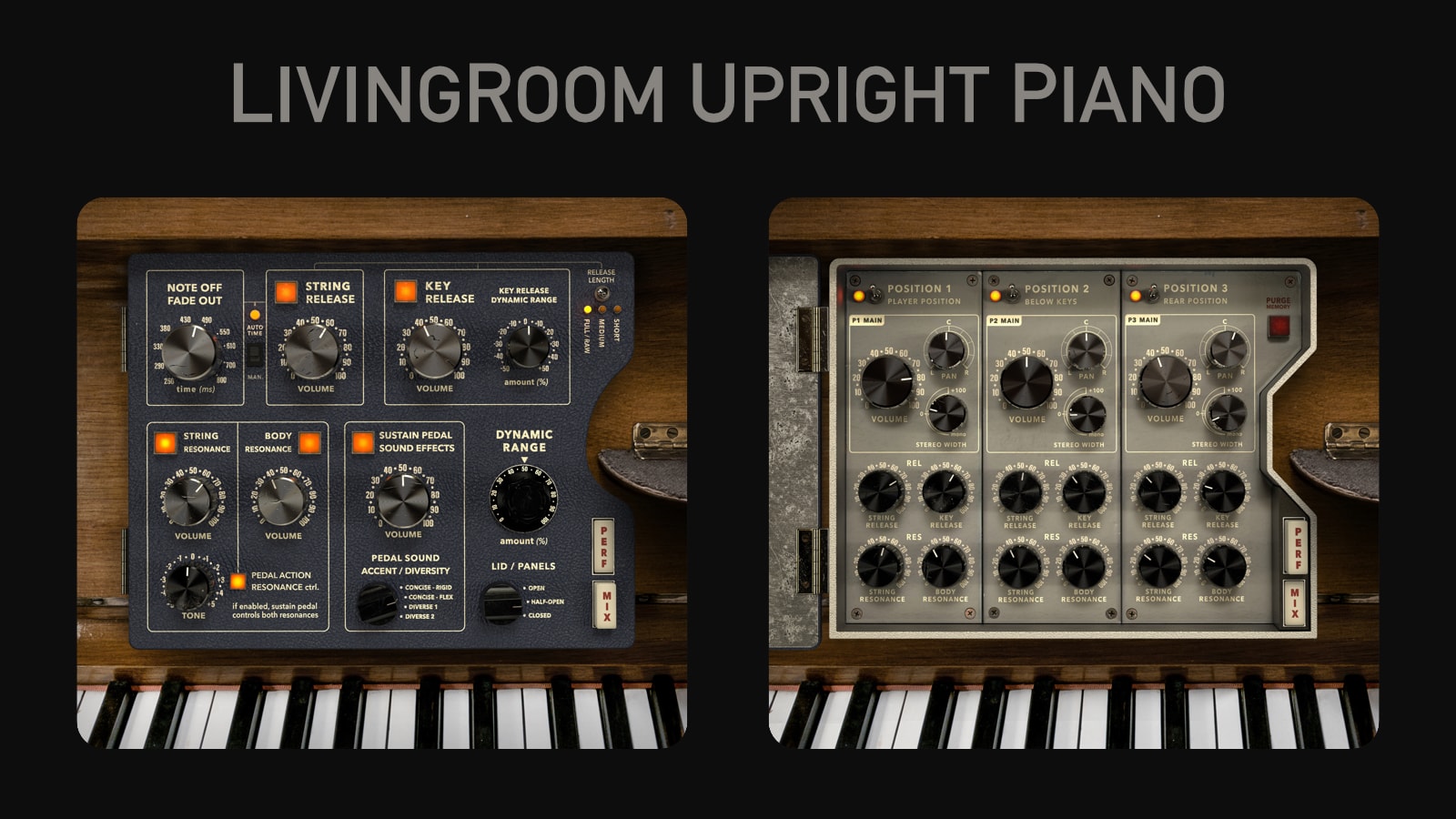 ---
Forever Free – Discuss this Freebie
Atmos 3 Lite is a Free cinematic ambient piano, with 2 layers of sound with adjustable level, one layer of acoustic piano sound recorded from a Yamaha C3 and another layer of sound pads created from the same original samples, using various digital processing such as Reverbs, Morphing and Structural Effects among others.
---
Forever Free
As the launch of our epic 'Origin – Cinematic Opus Magnum' sound pack was that successful, we decided to give out another batch of atmospheric ambient beds for you! This freebie includes 1.24 GB of royalty free ambient sounds that you can drag and drop into your next project. These files have again lengths of over 2 minutes, so they are perfectly useful for background music and underscore purposes.
---
Forever Free – Discuss this Freebie
This module simulates the collective image of the Studio Noise Gate Rack Effect. Extremely easy to operate, it gives you enough freedom for adjustment to your specific needs, whether it's applied to guitar tracks, vocals, or something completely different. This unit can operate both in auto and manual modes. When switching to automatic mode, the whole effect setting is reduced to a single Threshold slider.

---
Forever Free
It's notorious, it's obscure, it's grim, it leaves a taste of iron on the tip of the tongue.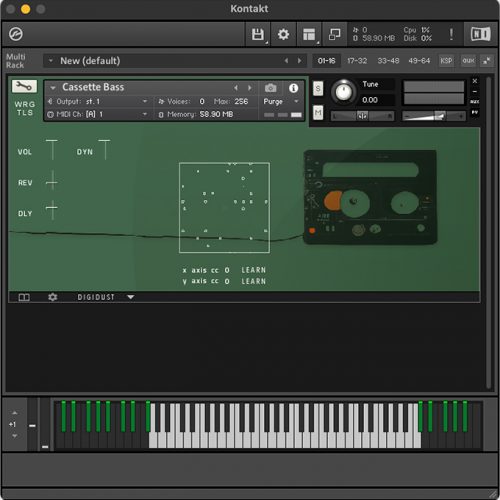 ---
Forever Free
Synthwave Dojo is proud to bring your our first ever sample pack, 80's Drum Machines! It contains over 400 samples from a collection of the most iconic drum machines from the 80's. If you're looking to add the retro drums flavor to your productions, look no further.
---
Forever Free – Discuss this Freebie
Anaverb is a free reverb plugin for macOS and Windows. We can confirm that the official release will remain a free VST, which is great news. The plugin has an extremely clean-looking GUI with four main controls. Although you can't base too much on appearance, it does look great; I love the minimalist/sleek styling.
---
Forever Free – Discuss this Freebie
Shape Lite 2 is a free single-stage waveshaper/wavefolder from Audec. The free plugin has six shaping curves, and each curve has up to four adjustable parameters.
---
Forever Free – Discuss this Freebie
Chop n Dice Lite is an easy to use "lite" version of our flagship clipper plugin Chop n Dice. It features one "Hard Clip" algorithm.
---
Forever Free – Discuss this Freebie
Discover a rare gem of music history with one of the world's earliest synthesisers — the Ondioline. Designed and patented by French inventor Georges Jenny in the early 1940s, the LABS team captured its delightfully off-kilter sound, transforming the raw recordings into a range of playful presets. Fizzing with smile-inducing possibilities — the Ondioline is as wild as your imagination.
---
Forever Free – Discuss this Freebie
Audiogram is an easy & quick app to let you know at which frequencies you stop hearing sounds.
---
Forever Free – Discuss this Freebie
Midmid is a multi-channel midi router that allows live performers an easy yet effective connectivity of their midi controller with up to 16 VST instruments that opened in their DAW. Users can instantly switch between instruments with a single button press and thanks to the big control buttons, they can even comfortably use Midmid with touch screens and jump instantly from one instrument to another.
---
Forever Free – Discuss this Freebie
Sistema is the first AI-powered software instrument that helps you easily create new textures & sounds for your music.
---
Forever Free – Discuss this Freebie
Immerse yourself in the world of contemporary vocals with this vast collection of evolving and percussive vocal textures, inspired by mythological Sirens. The library is performed by virtuoso soprano, Grace Davidson, who is known for her work on over 200 film soundtracks, and her collaborations with legendary composers such as Max Richter and Eric Whitacre.
---
Forever Free – Discuss this Freebie
Amplifikation 360 is a modular "playground" for stacking pedals, amps, and cabs to create the perfect sound you want. Immediately combine every Kuassa guitar plug-ins you own inside Amplifikation 360. Try routing Matchlock's Amp with Caliburn's Cabinet, add a series (and parallel routings) of Efektor pedals to get that spacey shoegazing wall of sound, bigger than live djent riffs, or even a trippy psychedelic leads.
---
Forever Free – Discuss this Freebie
GroundControl ROOM is the next generation of the traditional Control Room section. A software-based control room that lets you calibrate your speakers and headphones and simplifies your routing through all your system sound, without compromising the audio quality. GroundControl Room is the first all in the box control room section with perfect digital fidelity.
---
Forever Free – Discuss this Freebie
Elastik 3 is the most powerful sample player that we have ever created. It provides a complete toolkit for modern music producers working with audio loops. Loops can be an essential part of many musicians creative process and, with Elastik, you get a fast, efficient and flexible set of tools.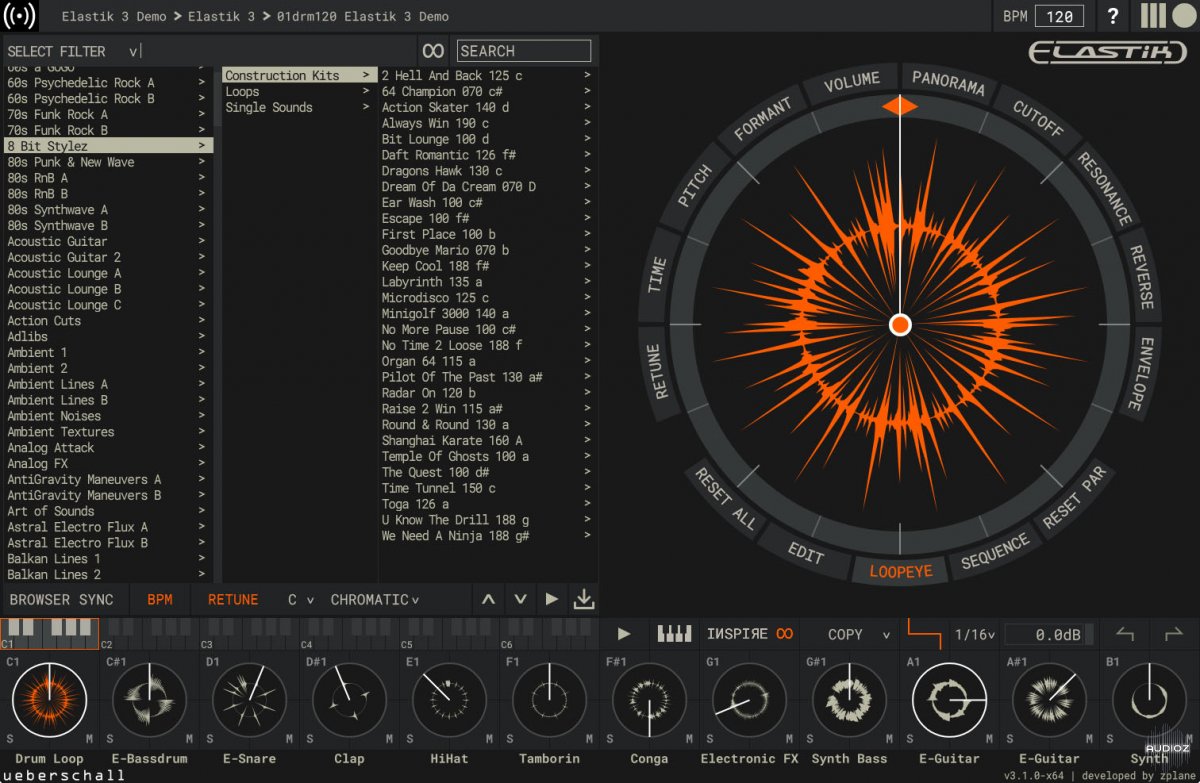 ---
Forever Free
Create beats, record performances, and have fun making music with the same GRAMMY®-winning tools used by your favorite artists and producers. Pro Tools Intro is a free DAW that gives you the essential audio and MIDI tools you need for music production, in addition to 36 effect and instrument plugins, to create any type of music.
---
Forever Free – Discuss this Freebie
TruPan is an Audio Plugin (VST Windows) that uses a combination of filtering (head shadow effect), delay (precedence – Haas effect), and level manipulation (Intensity variation). I used various techniques to minimize phase (Mono compatibility) problems. For the intended use, I believe the results are quite acceptable. Sure, not suitable for pink noise panning! Trying to replicate how we perceive directional cues, is not an easy task, especially with only two channels.
---
Forever Free
Classic piano from the S-series sampler with crunchy attack and sizzling tone – 90s house style! Includes LP filter, vintage reverb and pan mod.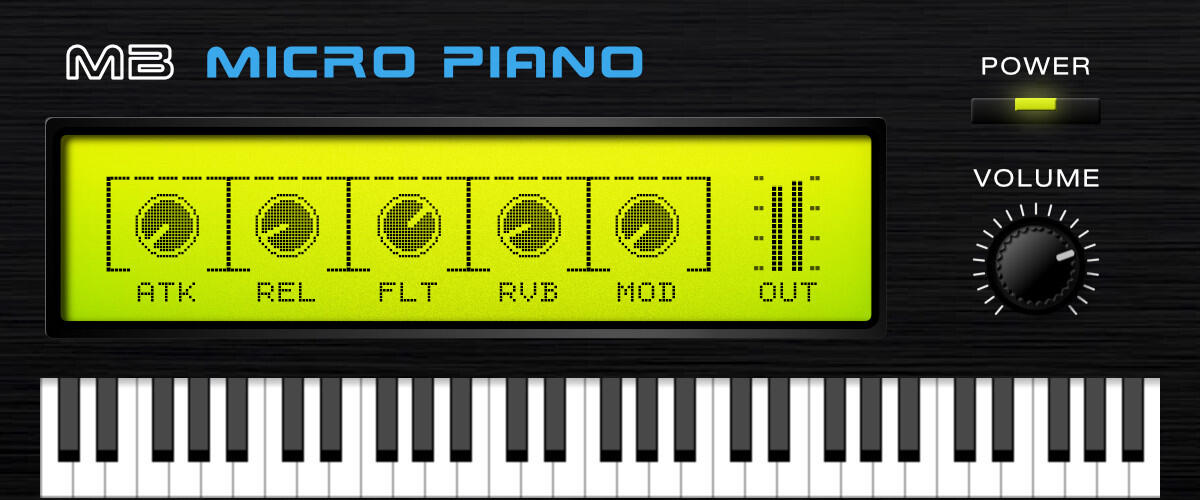 170 retro hits, stabs, pads and bass sampled from the classic 90s yellow hardware rack unit. 40 bass, 60 chords, 20 hits, 30 pads, 15 SFX and 5 vox. Includes vintage reverb and pan mod controls.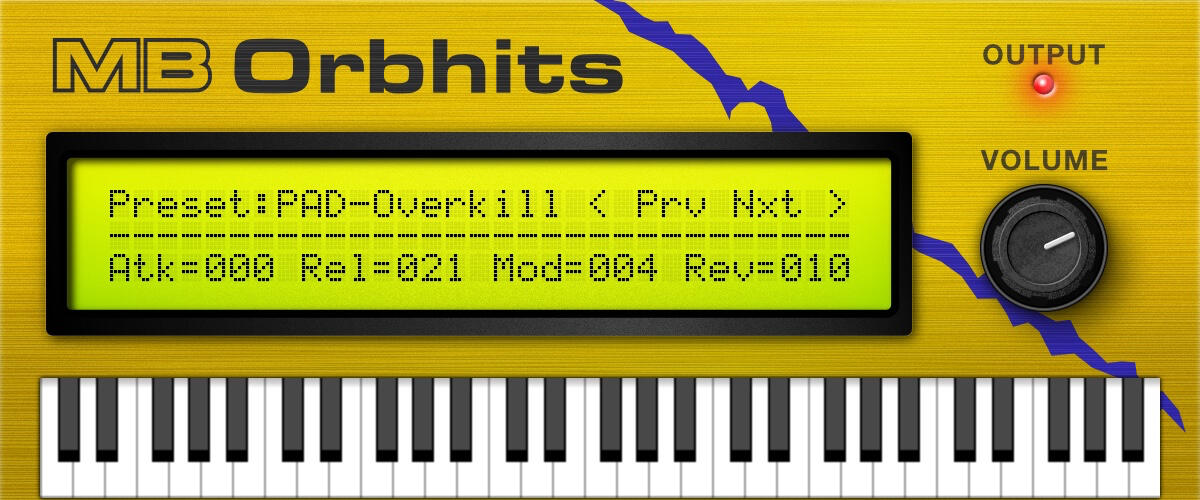 ---
Forever Free – Discuss this Freebie
Vinyl record was the primary medium used for music reproduction throughout the 20th century. Lost-vinyls shape with character your sound with state of the art distortion algorithms. Plugins can be used mainly on instruments (like guitar, vocals or keyboards.), but also on stem track like drum-kit or stacked chord track.
---
Forever Free – Discuss this Freebie
Mono is a stereo-to-mono converter effect. It outputs the same audio from the left and right. You can select the source of output audio from the average of the left and right, the left or right input.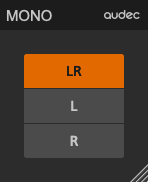 ---
Forever Free
The first two macros are assigned to filter's cutoff and resonance, the third is assigned to Aux reverb and finally with the 4th Macro you could create some interesting variations while sculpting the sound through the spectrum. For most patches the sculpting is very subtle.
---
Forever Free – Discuss this Freebie
TICK is a self-contained metronome. It runs almost anywhere. It runs as a plug-in, it runs on your phone. Everything is self-contained so your metronome sounds (and your bpm/time-signature) can go wherever you go.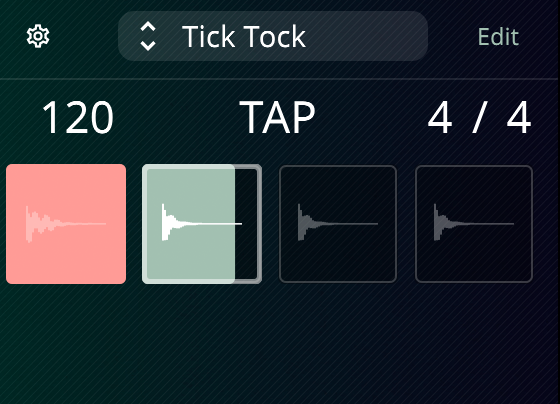 ---
Forever Free – Discuss this Freebie
Audacity is an easy-to-use, multi-track audio editor and recorder for Windows, macOS, GNU/Linux and other operating systems. Audacity is free, open source software.
---
Forever Free – Discuss this Freebie
Morning Coffee Piano is a free piano library for Kontakt. It is based on a calm and smooth acoustic piano combined with ambient texture and a music box-style instrument.
---
Forever Free
'TAL UNO 62 Progressive House Soundpack' is a freeware soundpack for the TAL UNO 62 synthesizer. Soundpack was built to give You 2 Progressive House templates which can be opened in 3 various DAWS. Each of Daw Project that is inside this sound pack, are presented in audio demo that you can prehear them easily.
---
Forever Free
Samplebrain chops samples up into a 'brain' of interconnected small sections called blocks which are connected into a network by similarity. It processes a target sample, chopping it up into blocks in the same way, and tries to match each block with one in it's brain to play in realtime. This allows you to interpret a sound with a different one. As we worked on it (during 2015 and 2016) we gradually added more and more tweakable parameters until it became slightly out of control.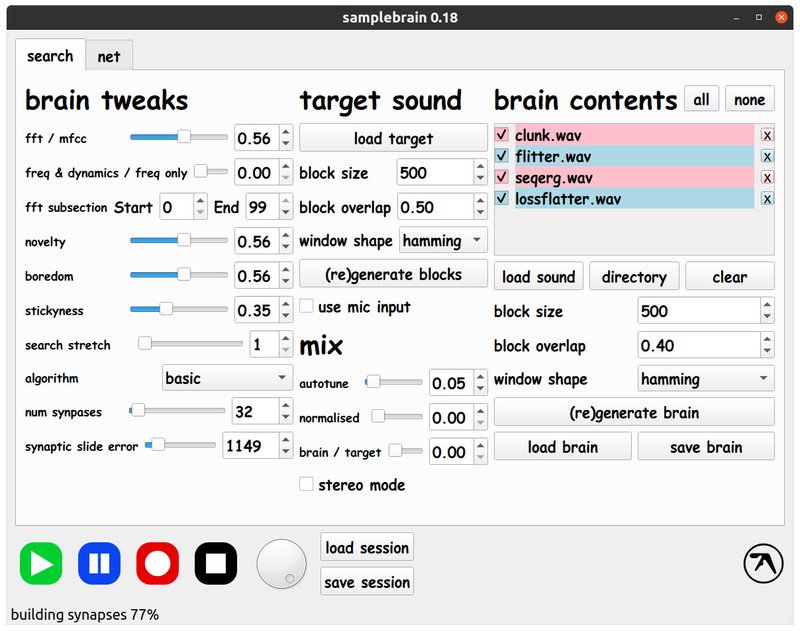 ---
Thanks for reading. Hopefully you found something cool!
Check out previous FREE Plugins Reports for even more freebies! And remember… there is always a range of free effects, free instruments, and free studio tools available from our partner Plugin Boutique, so check those out too.
See you next time!