Every few weeks we will let you know the latest news about free plugins. Join the Plugin Deals and Freebies Facebook Group, or check out r/newplugindeals on Reddit if you want to find out about the latest deals and freebies as they happen.
---
Until September 7th
Welcome to the future of sound design. Unleash your creative potential with Fuzzboy, a cutting-edge, guitar-pedal-inspired distortion plugin brought to you by DirektDSP. Designed to be simple, this plugin has everything you need for huge basses, crunchy drums and spicy high ends. There's literally no compromise! This plugin makes distortion simple, just pick a mode, tweak some knobs and boom, you're already done!
Until September 30th
Loopmix Lite
Loopmix makes it fun and easy to instantly remix and rearrange your audio loops into a kaleidoscope of new sounds! A specially built loop machine both for Studio and improvised live performance. Load up to 6 loops and let Loopmix generate infinite variations based on Sequencer, Rearrange, Reverse, Density, Volume and Pitch. Hit Random, or use its signature Randomization Algorithms: Remix, Infinity, Disintegration mode, Track based Randomization, Temporary Randomization and much more…
How To Stem Master A Song – eBook
If you're looking to squeeze every last bit of potential from your music productions, then becoming an expert in stem mastering should be the top of your priorities. Stem mastering gives you the control to transform even a shoddy mix into something very respectable… And if the mix is good, the sky is the limit. Mastering The Mix held nothing back in this new eBook. It's got all the best and latest information on this hidden art of production – get involved today!
Until September 30th
A reproduction of the most desired British Class-A preamp / eq. Inspired by one of the most famous and desired British Class-A preamps and equalizers ever made. The Class-A transistor preamp and eq combination make the audio sources feel alive using unparalleled sheen, clarity, and unique analog saturation with anti-aliasing tonal quality. This unit has been used not only on classics but has been still widely used on the current records too. The extremely accurate end-to-end circuit emulation which is holding each small detail and true vintage tone of the phenomenal studio equipment.
Forever Free
U-Style stripped down classic equalizer Normally, it has different features but while I model it in SPICE, I wanted to keep it simple. In my own design, I added all features but in plugin, only simulation. This EQ has different Q values up to frequencies and gain. I want to show this feature. Now, it's easy to use and fun to play! Also, I've pushed input line amp with gain compensated input. So, you can get nice saturation from line amps and filter circuit.
Forever Free
The mkIII version fulfils some of the most wanted improvements, especially adding oversampling and VST3 support. In addition, many details under the lid have been polished or upgraded to state-of-the-art signal processing, further improving compression, gain staging and cross feedback delay modes. This release fixes also several bugs and all details can be found in the included release notes or in the revised manual.
Forever Free
Project Sam offers monthly cinematic freebies with The Free Orchestra 2 for the free Kontakt Player. These enhancements included a shift to the same engine that powers flagship products like Symphobia and True Strike, along with multiple interface improvements. Now that The Free Orchestra 2 is on the scene, Project Sam has mapped out an entire year of new instrument releases.
Forever Free
Ny is a software instrument for Microsoft Windows (VST2/VST3/CLAP) and Apple macOS (VST2/VST3/CLAP/AU) simulating the classic KORG Lambda ES-50 Polyphonic Ensemble from 1979. It is written in native C++ code for high performance and low CPU consumption.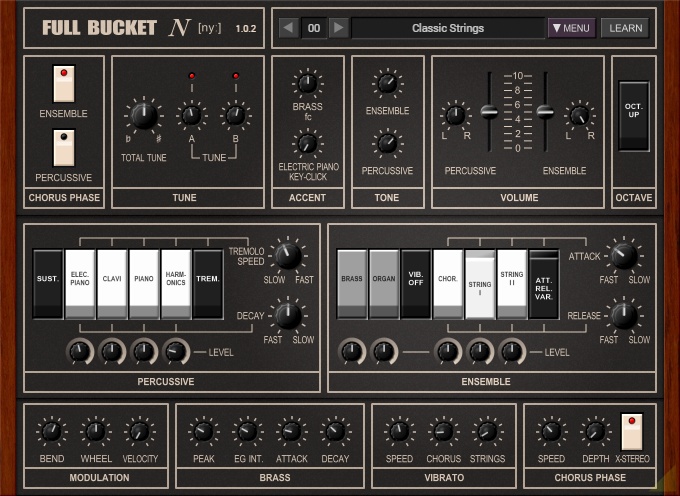 Forever Free
Rewired Records has just released a free sidechain plugin for Windows called SideKick2. Apart from the naming and look-feel affinities with the renowned Nicky Romero's KickStart 2, it looks like a solid plugin! As you would expect, its primary purpose is to create the classic sidechain pumping effect so common in EDM and similar genres. The interface is intuitive and straightforward, so you can get the desired effect quickly.
Forever Free
UltraBasic is a simple 10 waveforms synthesizer aimed at beginners who want to learn the very basics of sound synthesis. The plugin has Saw, Sine, Square, and Triangle waveforms that sound very pure and clean. There is also a selection of 6 noise waveforms, useful when you need simple signals to test your gear. While composing the demo track for UltraBasic, it became clear that a minimalistic approach to synthesis helps to focus on writing great music.
---
Thanks for reading. Hopefully you found something cool!
Check out previous FREE Plugins Reports for even more freebies! And remember… there is always a range of free effects, free instruments, and free studio tools available from our partner Plugin Boutique, so check those out too.